Most of the renowned Tanzania Peaberry coffee, like most of Tanzania's Coffee Arabica coffees, is grown on Mt. Meru as well as Mt. Kilimanjaro.
Tanzania Peaberry coffee typically has a medium body and bright, even penetrating, fruit-toned acidity. The deep, rich flavor may exhibit notes of black currant that soften to chocolate and blend into the sweet and deep aftertaste.
Often compared to Kenya coffee, Tanzania coffee is vibrant with a distinct sharp and winey acidity and rich flavor. The body is medium to full and look for cedar notes in the sweet berry and fruity tastes and rustic notes in the aroma followed by a lingering aftertaste.
Virtually all Tanzanian coffee is wet processed and the grading of the coffee, like Kenya, is based upon bean size with AA being the highest grade. The most common coffee plant varietals cultivated in Tanzania are Typica/Nyara, Blue Mountain, Bourbon and Kent cultivars.
Much of Tanzania's fine Arabica coffee is produced in the Kilimanjaro area and also in the Southern Highlands. Some of the finest coffees of Tanzania are Tanzania Peaberry Coffee and Tanzania Kilimanjaro Coffee, and these also includes some Fair Trade Coffee.
Roasting
Given a medium roast the aroma may be quiet yet complex and sweetly floral with layered notes of citrus, pineapple, or coconut. Tanzania Peaberry is often very delicate with notes of wine yet with a velvety, even syrupy mouthfeel.
What is a peaberry?
Peaberry coffee beans come from a coffee cherry (fruit) that encases one whole unroasted green coffee bean rather than the usual two half-beans.
Typically from one to nine percent of any coffee crop consists of peaberry coffee beans, which are often separated out from the other coffee beans and sold for a premium price due their superior flavors.
Buy peaberry Coffee Beans from Canada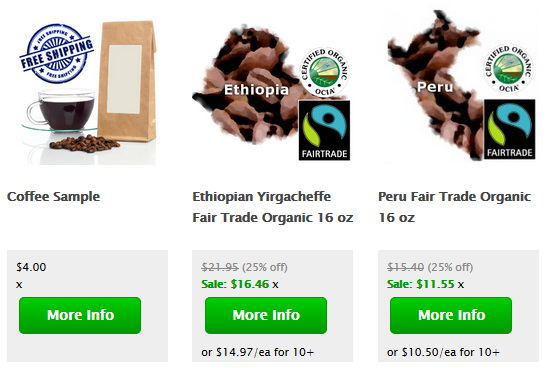 Green Coffee Production
60kg bags
2016: 800,000 = 105,600,000 lbs
2015: 930,172 = 122,782,704 lbs
2014: 752,669 = 99,352,242 lbs
2013: 810,935 = 107,043,446 lbs
2012: 1,151,122 = 151,948,038 lbs
Green Coffee Exports
60kg bags
2016: 0 = 0 lbs
2015: 828,470 = 109,358,040 lbs
2014: 677,720 = 89,459,040 lbs
2013: 750,170 = 99,022,440 lbs
2012: 1,062,420 = 140,239,440 lbs
Data may not be available for the most recent year.
Source: ICO
Facts

























Tanzania is the #15 largest coffee growing country in the world, in 2015 they...
produced 122,782,704 lbs
exported 109,358,040 lbs
That's over 89% exported!
Sounds like a lot? It's actually 0.6% of the coffee grown worldwide.

Tanzania coffee is grown on mountainside "fincas" (farms) at 1400 to 1800 meters above sea level
(that's 4,593 to 5,906 ft)
Source: ICO