Compared in some respect to Kenya coffee, Rwanda coffee is often quite delicate tasting with a pleasant sweet, caramelly aroma and hints of citrus (lemon, orange).
In general Rwanda coffees are more highly reviewed than the neighbouring regions of Zimbabwe and Zambia Coffees though not yet achieving the recognition of Kenya and Tanzania coffees. Rwanda also produces Fair Trade Coffees.
Jump to:
Characteristics
A fine Rwanda coffee offers a silky, creamy body along with the floral notes of Ethiopian Yirgacheffe Coffee and the acidity of a Kenya coffee. The aroma may provide hints of lemon and orange blossom with floral notes complementing the sweet citrus qualities with hints of caramel in the aftertaste.
The sweet flavors of a good Rwandan Bourbon coffee are suggestive of caramelized cane sugar along with spice notes of clove, cinnamon and allspice and rose floral aromas. The buttery creaminess of the body carries into the aftertaste.
Rwanda coffee has characteristics somewhat similar to other East African coffees such as Zimbabwe and Kenya.
History
German missionaries were the first to introduce coffee trees to Rwanda in 1904. Beginning around 1930 coffee production in Rwanda increased though it was mostly low-grade, high volume green coffee beans as dictated by the government creating one of the country's few significant cash crops.
Today Rwanda is Africa's ninth largest Arabica coffee producer with about 450,000 small farms which average less than one hectare in size (about 165 coffee trees per coffee farmer) totaling about 28,000 hectares in coffee cultivation.
Coffee is more of a culture in African countries than we're used to in the west, with rituals and socializing being a key component of any get together. The industry attaches values to its crops - Hope ("Ikizere"), Vision ("Ikerokoza"), Ishema ("Proud") - that guide how people work together.
Starbucks has offered Rwandan single origin coffee beans as part of their Starbucks Reserve Rwanda Hingakawa program.
Varietals
About 95% of Rwanda's coffee plants are the high quality Arabica varietal Bourbon. Also cultivated are relatively small amounts of the Catuai and Caturra varietals. One of the varietals cultivated in Rwanda is Coffea arabica var. mayaguez, a cultivar of Bourbon (Coffea arabica var. bourbon).
Most of the green coffee is wet processed often at communal washing stations used by numerous coffee farmers.
Most of the coffee in Rwanda is grown at elevations ranging from 1,200 to 1,800 meters above sea level. The Rwanda coffee plants flower in September in October and the coffee cherry are harvested and green coffees processed from March to July.
Rwanda's wholesale coffee market has been plagued in the past by tumultuous political events, war and genocide causing many deaths. The future of Rwanda's coffee market depends upon the political stability of the region.
Processing
Investments into infratstructure in Rwanda has led to coffee processing stations being set up in the country, reducing time from harvest to processing and increasing the quality of coffees from Rwanda.
Political and transportation issues
Historically Rwanda's coffee crops have been shipped across Uganda into Kenya and from there were shipped mostly to the European market. This extensive journey sometimes led to a degradation of the quality of the coffee and also made the crop more vulnerable to the current political situation.
Due to the difficulties getting the Rwanda coffee crop to market many farmers were discouraged from significant production of high quality coffee. An increasing ability of rural farmers to process their coffee and get it to wholesale market bodes well for the future of Rwanda coffee farming.
Virtually all of Rwanda's coffee is grown in the country's central region near Kigali (the capital) and in western Rwanda, while the eastern region of the country is largely reserved as a national park where no coffee growing occurs. The exception to this is the beautiful lake Kivu, where the gorgeous scenario is matched only by the quality of coffee put out.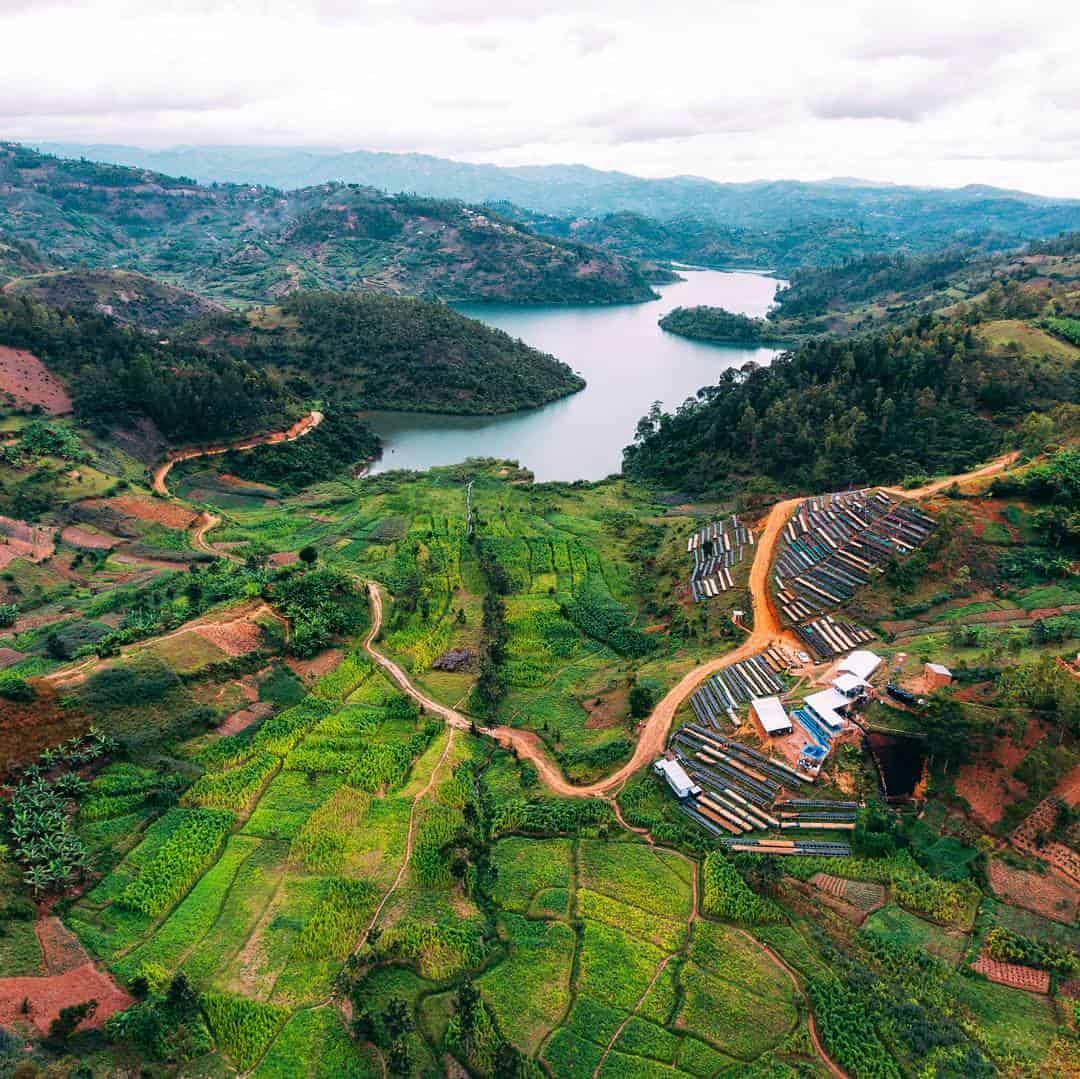 The Rwandan coffee brand "A Second Sunrise" appears to have vanished from the market without a trace, potentially due to political or export issues. Reviews of the brand seemed to indicate it was a fairly average coffee, similar to any Rwandan commodity bean.
Brewing tips
For tips on brewing the perfect cup of Rwanda coffee see the Espresso Coffee Guides section on coffee brewing.
For easy to follow instructions on how to make great Rwanda espresso drinks see Espresso Drink Recipes and the How to make Lattes and Cappuccinos. Also provided are tips on Pulling A Perfect Espresso Shot.
For the history of espresso and coffee see World's Best History of Coffee, and for a complete list of coffee terminology with detailed definitions see the Espresso Coffee Guides Coffee and Espresso Glossary.
Buy Rwanda Coffee Beans
✔️ Fresh roasted to order
✔️ 100% high qualtiy Arabica coffee
✔️ Custom grind (or whole bean)
✔️ 1-way valve, laminate bag (for freshness)
✔️ Bulk discounts
Green Coffee Production
| | | |
| --- | --- | --- |
| Year | 60kg bags | Coffee grown |
| 2016 | 240,000 bags | 31,680,000 pounds |
| 2015 | 278,406 bags | 36,749,539 pounds |
| 2014 | 238,306 bags | 31,456,366 pounds |
| 2013 | 257,710 bags | 34,017,746 pounds |
| 2012 | 258,559 bags | 34,129,801 pounds |
Green Coffee Exports
| | | |
| --- | --- | --- |
| Year | 60kg bags | Coffee exported |
| 2016 | 0 | 0 pounds |
| 2015 | 277,410 | 36,618,120 pounds |
| 2014 | 237,310 | 31,324,920 pounds |
| 2013 | 256,710 | 33,885,720 pounds |
| 2012 | 260,560 | 34,393,920 pounds |
Data may not be available for the most recent year.
Source: ICO
Facts

























Rwanda is the #28 largest coffee growing country in the world, in 2015 they...
produced 36,749,539 lbs
exported 36,618,120 lbs
That's 100% exported!
Sounds like a lot? It's actually 0.2% of the coffee grown worldwide.

Rwanda coffee is grown on mountainside "fincas" (farms) at 1600 to 2000 meters above sea level
(that's 5,250 to 6,562 ft)
Source: ICO