Primarily a producer of the lower grade Robusta coffee beans, the Ivory Coast has seen a decrease in coffee production in recent years largely due to lack of investment and planning.
Historically most of the coffee grow in the Ivory Coast has been sold in France and Italy.
Ivory Coast Coffee Production
A West African country, the Republic of Cote d'Ivoire is commonly known by its English name Ivory Coast and has a population of more than 20 million people. Bordering countries include Ghana, Guinea, Liberia, Mali, an Burkina and the country's southern boundary is along the Gulf of Guinea.
Major agricultural exports of the Ivory Coast include coffee, palm oil, cocoa beans and tropical woods.
Political Issues Hinder Ivory Coast

In March of 2011 the Ivory Coast President Laurent Gbagbo announced the nationalization of both the country's cocoa and coffee crops (the Ivory Coast's two main cash crops) though he was also in a fight to retain his power.
Coffees of the Ivory Coast
The winner of the November 2010 presidential election, Alassane Ouattara, is embattled in an effort to get Gbagbo to cede power and this has led to civil war and a humanitarian crisis.
The Ivory Coast is the world's largest cocoa exporter and the industry is crucial as a revenue source for the military and civil service. Ouattara called for a ban on coffee on cocoa exports in January of 2011 in an effort to reduce the funding going to Gbagbo and pressure him to give up power.
Thank You for Visiting Espresso Coffee Guide and Reading About Cote D'Ivoire Coffee - Ivory Coast Coffee!  Savor Your Coffee and Espresso!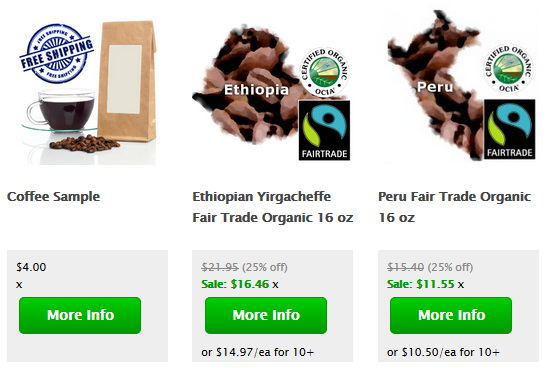 Green Coffee Production
60kg bags
2016: 2,000,000 = 264,000,000 lbs
2015: 1,892,771 = 249,845,746 lbs
2014: 1,750,086 = 231,011,339 lbs
2013: 2,106,827 = 278,101,204 lbs
2012: 2,071,786 = 273,475,712 lbs
Green Coffee Exports
60kg bags
2016: 0 = 0 lbs
2015: 1,553,770 = 205,097,640 lbs
2014: 1,438,420 = 189,871,440 lbs
2013: 1,702,490 = 224,728,680 lbs
2012: 1,738,790 = 229,520,280 lbs
Data may not be available for the most recent year.
Source: ICO