Gabon is located in west central Africa and is bordered by the Republic of Congo on the south and east, Cameroon to the north and Equatorial Guinea to the northwest. Also to the west of Gabon is the Gulf of Guinea which is an arm of the Atlantic Ocean.
Gabon's relatively small population (about 1.5 million people) along with an abundance of natural resources and foreign private investment have made Gabon one of the more prosperous countries in Sub-Saharan Africa.
Gabon's coffee industry has struggled during the last three decades due to the country's focus on oil and mineral reserves to generate money for the economy with little government support for coffee production.
When worldwide coffee prices dropped significantly from 2000 to 2004 many potential coffee farmers moved to urban areas and the country's coffee production as well as the quality of the coffee beans decreased markedly. Many Gabon coffee farms were completely abandoned while others were neglected (e.g., no fertilizers).
Coffees of Gabon continued:
Most Gabon coffee production comes from small farms. Recent investments in coffee growing in Gabon is a response to an increasing world demand and higher coffee prices that provide incentive for the needed investments.
Initiatives in Gabon are also striving to raise the quality of the country's Robusta coffee to a level that will allow it to enter the specialty coffee market. The Robusta coffee is wet processed and sun dried.
Also increasing is the production of Fair Trade Coffee. Gabon's climate allows for two coffee harvests each year.
Thank You for Visiting Espresso Coffee Guide and Reading About Gabon Coffee!  Savor Your Coffee and Espresso!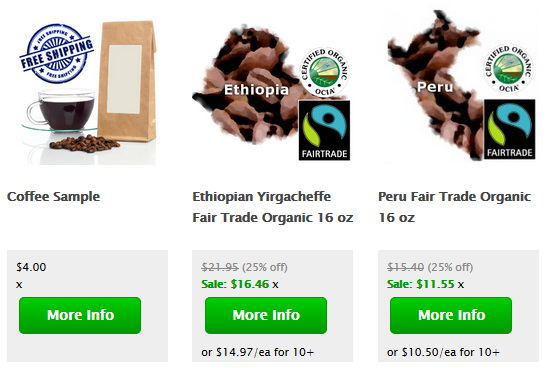 Green Coffee Production
60kg bags
2016: 500 = 66,000 lbs
2015: 500 = 66,000 lbs
2014: 483 = 63,756 lbs
2013: 383 = 50,556 lbs
2012: 751 = 99,132 lbs
Green Coffee Exports
60kg bags
2016: 0 = 0 lbs
2015: 0 = 0 lbs
2014: 0 = 0 lbs
2013: 0 = 0 lbs
2012: 0 = 0 lbs
Data may not be available for the most recent year.
Source: ICO