Everything You Wanted To Know About Equatorial Guinea Coffee
The once-thriving coffee industry in Equatorial Guinea was devastated by economic mismanagement during years of authoritarian rule, as was the country's cocoa industry.
Equatorial Guinea Green Coffee
While 7,664 tons of green coffee were produced in Equatorial Guinea in 1969, this declined to less than 200 tons in 1996. The quality of the coffee and cocoa also decreased rapidly with production occurring mainly at a few large and very inefficient plantations.
Green coffee beans exports from Equatorial Guinea have declined considerably over the years. In 1961 8,800 tonnes of coffee were exported while in 2007 only 117 tonnes were exported, and in 2008 it was just 21. It's rare to actually find Equatorial Guinea coffee available on the market.
Equatorial Guinea Demographics
The nation of Equatorial Guinea is a West African country which is just under 11,000 square miles in size which is comparable to the size of the state of Maryland.  Located on the West Coast of Africa it borders Gabon and Cameroon. Malabo is the capital city of Equatorial Guinea and is located on the island of Bioko.
The population of Equatorial Guinea in 200 was about 470,000. Economic stagnation has affected the country where most of the population lives in rural areas. In the 1970s and 1980s the country experienced an economic collapse.
The country has a burgeoning oil industry and is sub-Saharan Africa's sixth largest oil producer. Also increasing are timber exports which threaten to severely damage the country's environment.
Tourism in Equatorial Guinea
Tourism is also a potential growing industry as Equatorial Guinea still has many pristine areas, and recently the Mt Alen National Park was established which may also help tourism along with some hotel construction. Equatorial Guinea coffee production may also increase on small plots meant to provide tourists with locally grown coffee beans.
Thanks for Visiting Espresso Coffee Guide and Reading About Equatorial Guinea Coffee! Savor Your Premium Coffee and Espresso!
Also see: Buy New Guinea Sigri Coffee Online
Buy guinea Coffee Beans from Canada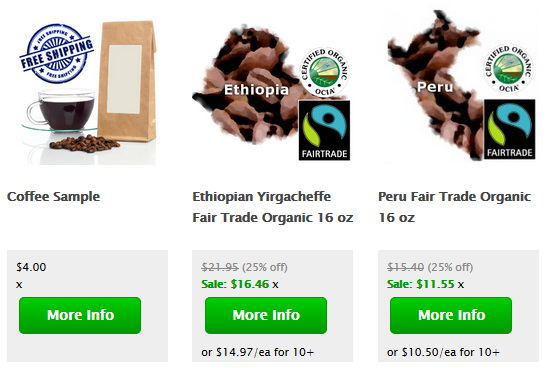 Green Coffee Production
60kg bags
2016: 0 = 0 lbs
2016: 200,000 = 26,400,000 lbs
2016: 900,000 = 118,800,000 lbs
2015: 0 = 0 lbs
2015: 176,839 = 23,342,761 lbs
Green Coffee Exports
60kg bags
2016: 0 = 0 lbs
2016: 0 = 0 lbs
2016: 0 = 0 lbs
2015: 0 = 0 lbs
2015: 126,840 = 16,742,880 lbs
Data may not be available for the most recent year.
Source: ICO