Coffee production as well as consumption have been increasing in Nigeria. Coffee consumption in Nigeria grew 5% in 2010 in part due to an increase in Nescafe mobile kiosks and 37% market share in the instant coffee sector.
Nescafe's products for Nigeria are manufactured in the Ivory Coast and distributed to various locations in West Africa. Nestle holds more than 60% of the market share in Nigeria.
Nigerian Coffee Plants and Industry Being Rejuvenated
In recent years old coffee plantations in Nigeria have been rehabilitated and old coffee plants rejuvenated typically by de-capping the plants to a height of about 1.5 meters.
There have also been new techniques utilized for propagating Robusta plants, and more than 110 varietals of Arabica coffee plants are being tested on the Mambilla Plateau in an effort to improve the country's coffee industry.
Also see: Best Coffees In the World
New coffee plant cultivation and fertilization methods are also being established in Nigeria to improve the yield of the coffee plants, and a coffee marketing campaign strategy has begun showing positive results.
Also improving the overall quality has been the adoption of wet method processing of the coffee cherry.
Thank You for Visiting Espresso Coffee Guide and Reading About Nigerian Coffee!  Savor Your Coffee and Espresso!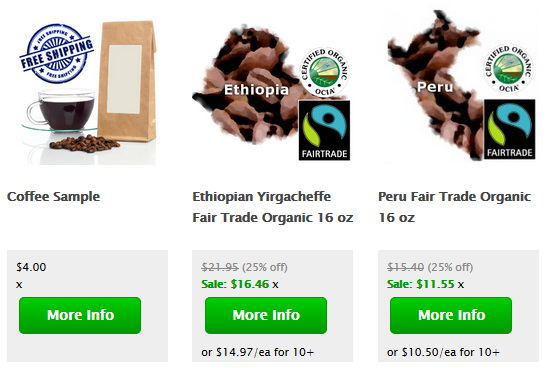 Green Coffee Production
60kg bags
2016: 42,000 = 5,544,000 lbs
2015: 42,401 = 5,596,932 lbs
2014: 42,616 = 5,625,259 lbs
2013: 40,858 = 5,393,296 lbs
2012: 40,764 = 5,380,808 lbs
Green Coffee Exports
60kg bags
2016: 0 = 0 lbs
2015: 2,400 = 316,800 lbs
2014: 2,620 = 345,840 lbs
2013: 860 = 113,520 lbs
2012: 760 = 100,320 lbs
Data may not be available for the most recent year.
Source: ICO