Coffees grown in the country of Colombia tend to be full-bodied with a rich taste and complex  acidity. The best high-grown Colombian coffee typifies the classic Latin American mild, fruity  flavor though not the type of fruity taste that seems almost fermented. The high volume of crops grown in the country (Colombia grew almost 10% of the coffee in the entire world in 2015) means that these premium Arabica beans are also some of the most aggressively priced on the market, and serve as a base for many brands' blends.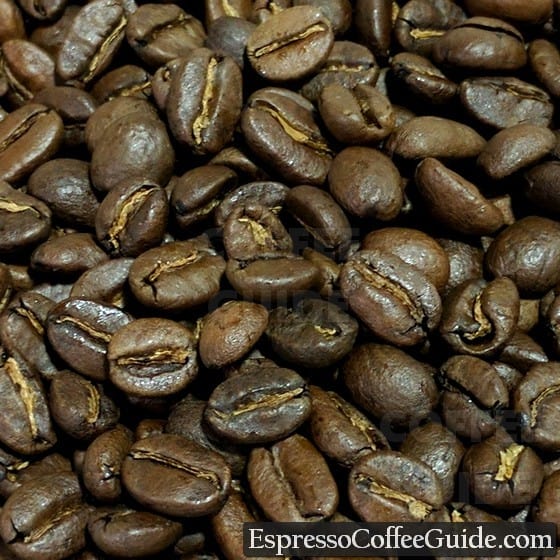 Colombia Green Coffee Farming and Processing
Most standard Colombian coffee is grown by relatively small farms and then collected, wet-processed (washed), milled, and exported by the Colombian Coffee Federation. Growing elevations in Colombia range from 1,200 meters to 1,800 meters above sea level, offering plenty of opportunity for Strictly High Grown Colombian coffees to be found. Colombian coffees are typically washed and sun dried on patios.
Because of the size of Colombia, the harvest season varies depending on the part of the country, with most crops being harvested between September and January, but some parts happen from April to August. The consistent output leads to more stable prices and a constant supply of Colombian green coffees to the North American market.
Colombian Organic coffees are not at all uncommon, and there are also Fair Trade as well as Rainforest Alliance certified colombian coffees available on the market.
Colombian Coffee Growing Regions
Three of Colombia's most distinguished coffees—Medellin, Armenia, and Manizales are named after the region in which they were grown and then often marketed together in order to simplify the transfers of large coffee contracts. These coffees are known by the acronym MAM.
One of the best Colombian coffees is Medellin Supremo, which is comparable to Jamaica Blue Mountain coffee though with a higher level of acidity.
Other coffees from Colombia include Cucuta coffee (usually shipped through Maracaibo in Venezuela, and the Bucaramanga coffee varietal which is known for its low acidity. Some of Colombia's finest coffees come from the Narino coffee-growing area in the south of Colombia.
Colombian Espresso
The relatively mild flavor of colombian coffees make it an ideal choice for espressos – they can be roasted dark without turning overly bitter. As an attractive bonus, the sheer volume of Colombian coffee available on the market means it's aggressively priced and is a good way to reduce the cost of a coffee blend while mellowing out the intense flavors.
While the two images here show relatively little change in the color of the roast, the taste is changed towards more of a darker, bolder coffee flavor, and the coffee oils have come more to the surface of the bean. Colombian coffees form the basis of many espresso blends used by the world's top coffee brands.
Colombia Coffee Production and Coffee Plant Varietals
Coffee has been cultivated in Colombia since the early 1800s and today the country produces about 12% of the world's coffee, exceeded only by Brazil and Vietnam.
Coffee plant varietals cultivated include the old Arabica varietals Typica (Coffea arabica var. typica) and Bourbon (Coffea arabica var. bourbon) as well as Caturra (Coffea arabica var. caturra) and Maragogype (Coffea arabica var. maragogype).
Colombian Coffee Tasting Notes
Colombian coffees are known for being smooth and easy-drinking, which makes them ideal for mellowing out overbearing flavors in some other countries. Due to a wide variety of varietals and growing regions within Colombia, it's difficult to peg down exactly which flavors you'll get from any single origin Colombian coffee, but there are some patterns that repeat. Sweet chocolatey flavors are very prominent in most, with some fruity notes that can touch on caramel, apple and red fruits like berries. The Colombian aromas tend to be a little citrusy and fruity at at times, have hints of spice.