The Coffea arabica coffee plant varietal Geisha (Coffea arabica var. geisha) has won numerous coffee tasting awards in recent years, creating a high demand for the coffee at auctions.
Panama Geisha Coffee Growing Region
Panama Geisha is grown in the highlands of the Boquete region in the Chiriqui Province of western Panama. The particular coffee that won these awards was Esmerelda Special grown by the farm Hacienda La Esmerelda where elevations are from 1,450 to 1,700 meters above sea level (qualifying as Strictly Hard Bean (SHB)) on the slopes of Volcan Baru.
Panama Geisha Coffee Review
Geisha coffee plants are known for their distinguishing characteristics - elongated fruits, or coffee cherry, and its light body with honey and citrus flavors that provide an outstanding taste profile and cup character.
Geisha coffee exhibits a subdued yet intense floral and jasmine-like aroma and a distinct though delicate acidity, balanced and bright with shimmers of white wine and notes of berries, mango, papaya, and mandarin oranges. The long aftertaste/finish provides distinct bergamot-like notes.
Origins of the Geisha Coffee Plant
The Geisha varietal was first discovered in Abyssinia in southwest Ethiopia in 1931, and was first brought to Panama from Costa Rica in 1963.
Due to the recent success of Geisha in Panama, many coffee farmers in Central America are now planting the Geisha varietal. Also see Panama Coffee.
Panama Geisha Coffee Brewing Tips
For tips on brewing the perfect cup of Panama Geisha coffee see our section on coffee brewing. Geisha coffees demand the utmost care when brewing - not only are they some of the higher priced coffees on the market, but they have so much to offer that time should be taken to brew properly and enjoy.
We also provide detailed coffee flavor profiles of gourmet coffee and instructions on preparing Espresso Drink Recipes.
For espresso brewing tips see Pulling A Perfect Espresso Shot as well as How to make Lattes and Cappuccinos.
For detailed definitions of coffee terminology see the Coffee and Espresso Glossary. Also check out the World's Best History of Coffee.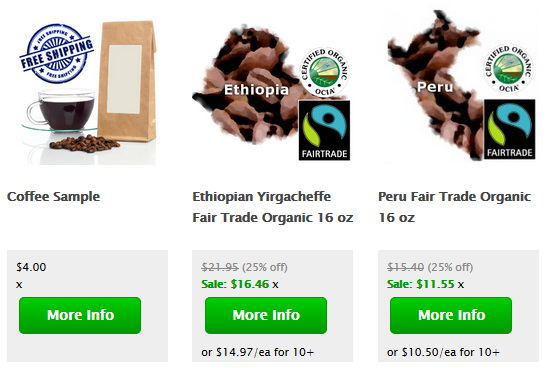 Green Coffee Production
60kg bags
2016: 115,000 = 15,180,000 lbs
2015: 108,479 = 14,319,228 lbs
2014: 106,166 = 14,013,859 lbs
2013: 113,373 = 14,965,183 lbs
2012: 115,520 = 15,248,614 lbs
Green Coffee Exports
60kg bags
2016: 0 = 0 lbs
2015: 41,480 = 5,475,360 lbs
2014: 43,170 = 5,698,440 lbs
2013: 48,370 = 6,384,840 lbs
2012: 48,520 = 6,404,640 lbs
Data may not be available for the most recent year.
Source: ICO