Cameroon Arabica coffee is best known for its rich, full body and mellow taste along with a very pleasant aroma.
The Republic of Cameroon in the Gulf of Guinea  at the intersection of Central Africa and West Africa traditionally produces the lower grade Robusta coffee though a farmers' cooperative initiative was begun in the late 1990s to cultivate and process high grade organic Arabica coffee with the goal of bringing green coffee farmers a higher return.
This is taking place in the country's western highlands in the mountainous region known as Boyo which benefits from nutrient-rich, dark volcanic soils. Also separated out from the crop is Cameroon Boyo peaberry coffee.
Coffee One of Cameroon's Numerous Agricultural Commodities
Cameroon benefits from favorable agricultural conditions giving it one of the best primary commodity economies in the sub-Saharan Africa region. Along with green coffee beans Cameroon's principal commercial crops are cotton, tobacco and bananas while sugarcane palm products and rubber are also grown commercially.
Cameroon Coffee Processing and Increasing Arabica Production
After the coffee cherry have been harvested by hand picking and then de-pulped, the coffee berry pulp is mixed with the soil around the coffee plants in order to supplement the soil nutrients.
As Cameroon continues to improve its cultivation and processing methods an increasing amount of some of the best Arabica coffee is coming from the region which is most known for such coffees as Kenya, Tanzania and Ethiopian Coffee.
Also see: Best Coffees In the World
Cameroon is bordered by Chad to the northeast, Nigeria to the west, the Central African Republic to the east and Equatorial Guinea, Gabon and the Republic of Congo to the south.
Thank You for Visiting Espresso Coffee Guide and Reading About Cameroon Coffee!  Savor Your Coffee and Espresso!
Five Best Coffees In the World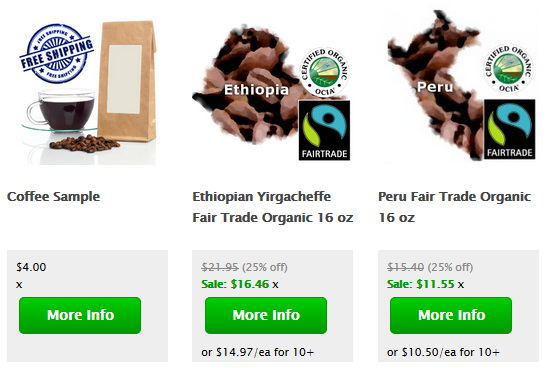 Green Coffee Production
60kg bags
2016: 480,000 = 63,360,000 lbs
2015: 390,838 = 51,590,603 lbs
2014: 483,105 = 63,769,873 lbs
2013: 403,831 = 53,305,705 lbs
2012: 371,020 = 48,974,600 lbs
Green Coffee Exports
60kg bags
2016: 0 = 0 lbs
2015: 309,840 = 40,898,880 lbs
2014: 397,790 = 52,508,280 lbs
2013: 332,390 = 43,875,480 lbs
2012: 324,320 = 42,810,240 lbs
Data may not be available for the most recent year.
Source: ICO