For more general information about Guatemalan coffees, see: Guatemala Coffee.
The Antigua coffee region is one of the better known in Guatemala thanks to both the quality and quantity the region puts out. Nestled in the valley of 3 volcanos, it sits over 1,500 meters above sea level and has ideal coffee growing conditions - rich soils, ample rain and sun and relatively consistent temperatures.
The climate makes for not only a robust growing environment for the coffee, but also a beautiful, paradise-like vacationing destination.
Jump to:
About
Growing Altitude: 1,500 - 1,800 meters above sea level
Arabica Variety: Caturra, Bourbon
Harvest Period: December - April
Milling Process: Washed, Sun-dried
Aroma: Floral, Citrus
Flavor: Chocolate, Caramel Sweetness, Citrusy (Orange)
Body: Full
Acidity: Bright, Lemony
Guatemala Antigua coffees are Strictly Hard Bean coffees grown at elevations from 4,600 feet to 5,600 feet where the temperatures range from 66 to 71 degrees Fahrenheit (19 to 22 Celsius).
The rainfall in this region is usually between 800 mm and 1,200 mm each year with a humidity that stays relatively constant at around 65%.
Distinct dry seasons and wet seasons provide for a consistent climate that leads to a uniformity of maturation among the coffee plants, with green coffee harvesting typically occurring from January to the middle of March.
Review
Generally considered to be the finest premium coffee grown in Guatemala, Antigua is known to exhibit the typical Guatemalan coffee qualities which include a full body (heavier than the typical Central American coffee) and spicy flavor that is often very rich, even velvety.
The coffee bean can take a Dark Roast providing a pleasing, smoky cup of brewed coffee.
Espresso
Guatemala's relatively consistent climate produces world-class coffees with distinctive flavors, that shine well into a darker ("espresso") roast.
Coffee plant types grown in the Antigua region include the Arabica varietals Catuai (Coffea arabica var. catuai), Caturra (Coffea arabica var. caturra), and Bourbon (Coffea arabica var. bourbon).
Starbucks Guatemala Antigua
Select Starbucks locations have recently been carrying their own Antigua as part of their "Starbucks Reserve" offerings.
Coffee Farm Tours
Coffee farm tours are a popular tourist attraction in Antigua. With a large coffee producing region you can find a number of farms to visit where you can learn the ins-and-outs of growing coffee, harvesting it, processing it and roasting it.
They say that the only thing you can do after picking coffee is make it worse, and having fresh harvested and roasted coffee right from the source is an experience you'll never forget. Tours typically cost around $25 USD.
Buy antigua Coffee Beans from Canada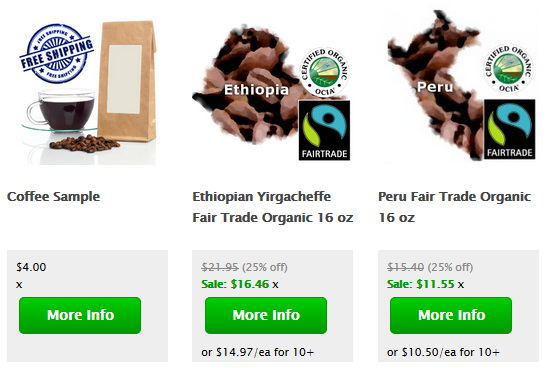 Green Coffee Production
60kg bags
2016: 3,500,000 = 462,000,000 lbs
2015: 3,419,881 = 451,424,252 lbs
2014: 3,310,076 = 436,930,019 lbs
2013: 3,189,371 = 420,997,025 lbs
2012: 3,762,933 = 496,707,169 lbs
Green Coffee Exports
60kg bags
2016: 0 = 0 lbs
2015: 3,029,880 = 399,944,160 lbs
2014: 2,925,080 = 386,110,560 lbs
2013: 3,121,370 = 412,020,840 lbs
2012: 3,706,930 = 489,314,760 lbs
Data may not be available for the most recent year.
Source: ICO
Facts

























Guatemala is the #9 largest coffee growing country in the world, in 2015 they...
produced 451,424,252 lbs
exported 399,944,160 lbs
That's over 89% exported!
Sounds like a lot? It's actually 2.3% of the coffee grown worldwide.

Guatemala coffee is grown on mountainside "fincas" (farms) at 1200 to 1700 meters above sea level
(that's 3,937 to 5,578 ft)
Source: ICO