Venezuela Maracaibos Coffees 
Venezuela's finest coffees are a class of coffees known as Maracaibos, named after the port through which they are shipped, are grown in the western part of the country near the border with Colombia.
Unfortunately, poor farming practices in the early 20th century lead to soil erosion and a gradual decline of the coffee industry in Venezuela. The increasing global reliance on oil led to less interest in developing their agricultural trade, and coffee suffered as a result. Yields are relatively low and without investment and effort to produce a high-cupping coffee, will likely remain low for years. In addition to all this, 2016 and 2017 saw increasing turmoil and crisis within the government.
The Maracaibos coffees include several distinguished coffees such as Trujillo, Tachira, and Merida which exhibit classic Venezuelan coffee qualities including a sweet and slightly rich flavor with a balanced acidity. These regions coincide with the Andes mountain ranges, offering altitudes high enough to slow the growth and offering higher quality beans.
Tachira Coffee
One of the Maracaibo class of Venezuelan coffees which exhibit classic Venezuelan coffee qualities including a sweet and slightly rich flavor with a balanced acidity. Tachira is most similar to Colombian coffee while Merida is more distinctive, exhibiting a sweet, light taste and delicate flavors.
Caracas Coffees
Caracas is also a class of coffees, and their quality ranges from fair to excellent. The best grade of Venezuelan coffee, regardless of the market name, is Lavado Fino which means "fine, washed."
Merida Coffees
One of Venezuela's finest coffees, Merida is distinguished by its light taste, sweet in the cup with delicate flavors. Merida is a market name, and the coffee's taste is characteristic of Venezuelan coffee. Also see Venezuela Coffee.
Venezuela Coffee Plant Varietals
Coffee plant varietals grown in Venezuela include the old Arabica varietals Bourbon (Coffea arabica var. bourbon) and Typica (Coffea arabica var. typica) as well as the varietals Caturra (Coffea arabica var. caturra) and Mundo Novo (Coffea arabica var. mundo novo).
Venezuela Coffee Brands
There are very few coffee brands based out of Venezuela that are readily available in North American and European markets. The majority of Venezuelan coffees will be from local coffee roasters who have managed to get their hands on some green coffee beans, which will offer a more authentic taste than pre-roasted and imported coffees. Even the omnipresent Starbucks current lacks a Venezuelan coffee offering.
Venezuela Coffee and Espresso Brewing Tips
For tips on brewing the perfect cup of Venezuela coffee see our section on coffee brewing. We also provide detailed coffee flavor profiles of gourmet coffee and instructions on preparing Espresso Drink Recipes.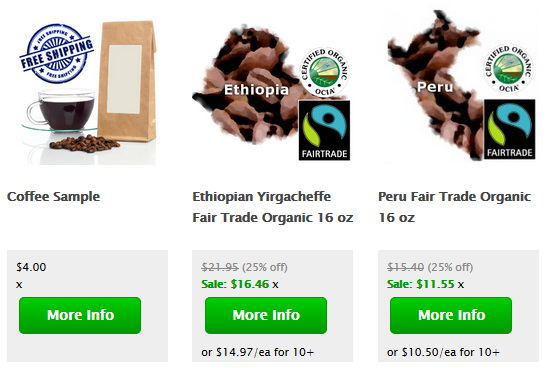 Green Coffee Production
60kg bags
2016: 400,000 = 52,800,000 lbs
2015: 501,200 = 66,158,400 lbs
2014: 651,170 = 85,954,374 lbs
2013: 804,516 = 106,196,086 lbs
2012: 952,420 = 125,719,453 lbs
Green Coffee Exports
60kg bags
2016: 0 = 0 lbs
2015: 1,200 = 158,400 lbs
2014: 1,170 = 154,440 lbs
2013: 4,520 = 596,640 lbs
2012: 2,420 = 319,440 lbs
Data may not be available for the most recent year.
Source: ICO