Panama is most distinguished for growing the Geisha coffee plant varietal (Coffea arabica var. geisha). Grown in Panama's Chiriqui Province, Geisha has won numerous coffee tasting awards in recent years, creating a high demand for the coffee at auctions.
Altitude Range: 1200 - 2000 meters above sea level
Language Spoken: Spanish
Harvest: November - March
Annual Coffee Production: 113,000 bags (Crop 2013)
Common Varieties: Arabica, Caturra, Catuai, Typica, Geisha, Mundo Novo.
Avg Farm Size: Small farms, 0 – 10 hectares.
At present, there does not appear to be Fair Trade or Organic certified green coffee beans available for sale on the market from Panama.
Distinguishing Qualities of Panama Geisha Coffee
Geisha coffee plants are known for their elongated coffee cherry (fruit), and the coffee is distinguished for its light body, bright acidity and jasmine-like aroma with honey and citrus tastes creating an outstanding cup character and profile.
Other Panama Coffee Plant Varietals
Other coffee plant varietals grown in Panama include Typica (Coffea arabica var. typica), Bourbon (Coffea arabica var. bourbon), Catuai (Coffea arabica var. catuai), and Caturra (Coffea arabica var. caturra). Also see Panama Geisha Coffee.
Panama Coffee and Espresso Brewing Tips
For tips on brewing the perfect cup of Panama coffee see our section on coffee brewing. We also provide detailed coffee flavor profiles of Specialty Coffees and instructions on preparing Espresso Drink Recipes.
For step-by-step instructions see Pulling A Perfect Espresso Shot as well as How to make a Latte.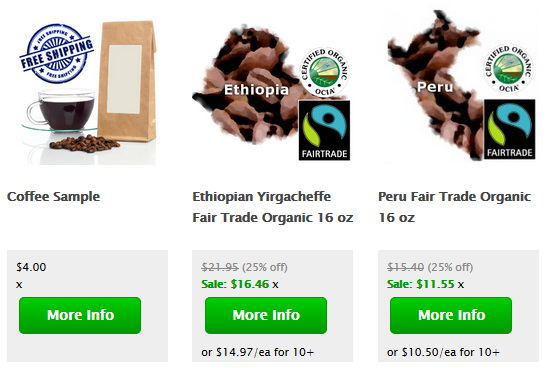 Green Coffee Production
60kg bags
2016: 115,000 = 15,180,000 lbs
2015: 108,479 = 14,319,228 lbs
2014: 106,166 = 14,013,859 lbs
2013: 113,373 = 14,965,183 lbs
2012: 115,520 = 15,248,614 lbs
Green Coffee Exports
60kg bags
2016: 0 = 0 lbs
2015: 41,480 = 5,475,360 lbs
2014: 43,170 = 5,698,440 lbs
2013: 48,370 = 6,384,840 lbs
2012: 48,520 = 6,404,640 lbs
Data may not be available for the most recent year.
Source: ICO