A good coffee from Haiti is rich-flavored with a medium body and a relatively low acidity that gives the coffee a pleasant softness, sweet and smooth.
Haitian Coffee Production and Coffee Grading
Most Haitian coffee is produced by a group of cooperatives and sold under the market name Haitian Bleu.
The highest grade of coffee from Haiti is known as Strictly High-Grown Washed.
History of Coffee Growing in Haiti
The recent history of coffee in Haiti includes political strife, a trade embargo, problems with coffee diseases (e.g., coffee rust), and a general decline in the price of coffee.
Major devastation of Haiti occurred in January of 2010 when more than 200,000 Haitians were killed in a massive earthquake. The future of the Haitian coffee industry remains uncertain. Also see Haitian Bleu Coffee.
Haiti Coffee and Espresso Brewing Tips
For tips on brewing the perfect cup of Haiti coffee see our section on coffee brewing. You can also read extensive coffee flavor profiles of Specialty Coffees and helpful tips on preparing Espresso Drink Recipes.
Buy haiti Coffee Beans from Canada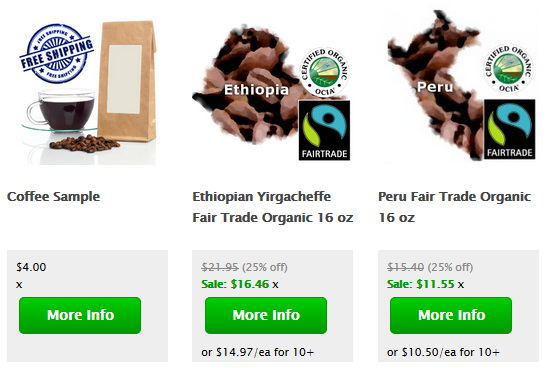 Green Coffee Production
60kg bags
2016: 350,000 = 46,200,000 lbs
2015: 342,141 = 45,162,546 lbs
2014: 343,207 = 45,303,284 lbs
2013: 345,210 = 45,567,694 lbs
2012: 349,732 = 46,164,611 lbs
Green Coffee Exports
60kg bags
2016: 0 = 0 lbs
2015: 2,140 = 282,480 lbs
2014: 3,210 = 423,720 lbs
2013: 5,210 = 687,720 lbs
2012: 9,730 = 1,284,360 lbs
Data may not be available for the most recent year.
Source: ICO