A good Peruvian coffee is gentle, aromatic and flavorful with a mild acidity. Some of the most notable coffees of Peru are Urubamba and Chanchamayo, which are both market names.
Jump to:
Growing Regions
Urubamba coffee is grown in the southern part of the country near Machu Pichu, and Chanchamayo which is grown in the central region of the country on the western slopes of the Andes Mountains in the renowned high green mountain valley of Chanchamayo east of Lima at elevations of about 1,200 meters above sea level and higher.
Chanchamayo Coffee
Chanchamayo coffee exhibits a medium (occasionally light) body with a moderate to bright acidity and delightful flavors and aromatic qualities.
The taste of a fine Chanchamayo is smooth and delicate, and very well-balanced with nutty and chocolaty tones and a sweet citrus taste in both the flavor and aroma as well as the pleasant finish/aftertaste. The taste is soft and sweet.
Also see Peru Urubamba Coffee; Peru Chanchamayo High Grown Coffee.
Urambamba Coffee
A market name for a respected coffee grown in the south of Peru near Machu Pichu. Also see Peru Chanchamayo High Grown Coffee; Peru Coffee.
Organic coffee
Peruvian Fair Trade and Organic certified coffee is widely available, offering mellow flavors at an aggressive price - sometimes they're the most affordable organic coffees available on the market.
There's definitely a distinction among the more flavorful higher-priced specialty Peru coffees and the more common mild-flavored lower-priced coffees that you'll find at most roasters and stores, but don't mistake the price for a sign of bad coffee. Even the ubiquitous lower priced Peruvian coffee is worth adding to your rotation.
In rare instances, these coffees are also used for the Swiss Water Decaf process, but availability is spotty.
Cacao and chocolate
Conditions that are great for growing coffee also overlap with those for growing cacao - high altitudes, rich soils, a tropical climate. The Amazon rainforest is where most of the varietals originate from. Peruvian cacao is typically the criollo varietal and is well respected by chocolatiers around the world.
The Alliance Peru Cacao is the governing body, working to help coffee farmers establish standards that help to market the crops, and ensuring long-term sustainability of the industry. Along with coffee, it represents a flagship commodity for Peru and is featured on some currency.
Buy peru Coffee Beans from Canada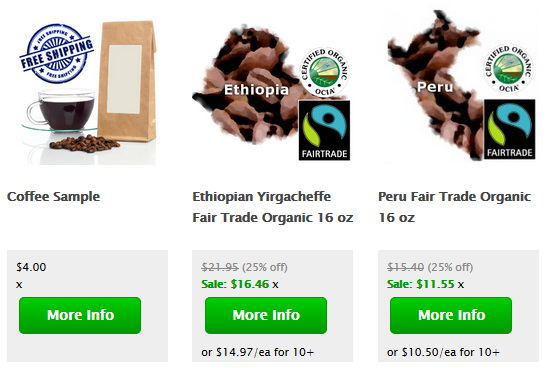 Green Coffee Production
60kg bags
2016: 3,800,000 = 501,600,000 lbs
2015: 3,300,978 = 435,729,122 lbs
2014: 2,883,229 = 380,586,228 lbs
2013: 4,338,089 = 572,627,788 lbs
2012: 4,452,925 = 587,786,087 lbs
Green Coffee Exports
60kg bags
2016: 0 = 0 lbs
2015: 3,060,980 = 404,049,360 lbs
2014: 2,443,230 = 322,506,360 lbs
2013: 4,110,090 = 542,531,880 lbs
2012: 3,930,920 = 518,881,440 lbs
Data may not be available for the most recent year.
Source: ICO