Ecuadorian coffees tend to be fairly acidity with a medium body and a predictable flavor typical of South American coffees and Central American coffees coffees.
Ecuador Coffee Growing Regions
Coffee is primarily grown in the following regions of Ecuador:
Loja
Guyanas
Sucumbios
Orellana
Napo
Pichincha
Chinchipe
El Oro
Manabi
Zamora
Galagapos
Ecuador Coffee Brands
The most (locally) popular brand of Ecuador coffee we've found is Cafe Cubanito. Most Ecuador coffees are exported as green coffee beans to other countries such as the United States, Australia, Russia, Poland, Germany and even Colombia. These exported coffees are then blended into other brands, or sold as unique and rare single origin coffees.
Galagapos Islands Coffee
The Galagapos Islands are a series of volcanic islands spread directly on the equator (both North and South), and are a province of Ecauador located about 900 km offshore in the Pacific Ocean.  With a population of about 26,000, they encompass about 8,000 square kilometers with mountain ranges going up to 1,700 meters - perfect conditions for growing coffee.
Being disconnected from land and without infrastructure from surrounding countries, the coffee industry never really took hold. This may be starting to change if Scott Henderson manages to scale up his "Lava Java" coffee farm. Managing the entire process from growing to harvesting, processing and roasting is necessary, but Scott and his wife Maria Elena - conservationists by trade - are up to the task.
Naturally, the focus isn't just on coffee trees but biodiversity, with the farm encompassing a variety of trees including exotic ones only found on the island (and almost wiped out). This encourages a number of different insects who can help pollinate, which in turn attract small animals like birds, and help the island overall thrive.
Ecuador Coffee and Espresso Brewing Tips
To brew an awesome cup of Ecuador coffee see coffee brewing. For flavor profiles see Specialty Coffees and also check out detailed instructions on preparing Espresso Drink Recipes.
For detailed definitions of coffee terminology see the Coffee and Espresso Glossary.  If you are a history buff you will enjoy the World's Best History of Coffee.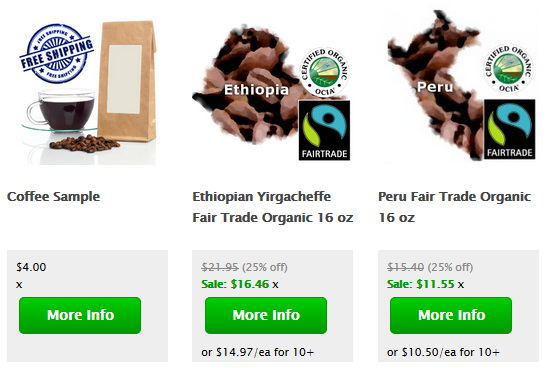 Green Coffee Production
60kg bags
2016: 600,000 = 79,200,000 lbs
2015: 644,493 = 85,073,023 lbs
2014: 644,011 = 85,009,478 lbs
2013: 665,545 = 87,851,940 lbs
2012: 828,102 = 109,309,517 lbs
Green Coffee Exports
60kg bags
2016: 0 = 0 lbs
2015: 0 = 0 lbs
2014: 0 = 0 lbs
2013: 0 = 0 lbs
2012: 0 = 0 lbs
Data may not be available for the most recent year.
Source: ICO