For more general information about coffees in Guatemala, see Guatemala Coffee.
With a taste that is subtle and mild yet still complex and interesting, Guatemalan Huehuetenango has distinctive and delicate fruity tastes, a fairly light body that can sometimes be slightly buttery, a sweet floral aroma, and a clean aftertaste that lingers pleasantly on the palate.
Growing Altitude: 1,600 - 1,700 meters above sea level
Arabica Variety: Bourbon, Typica, Caturra
Harvest Period: December - April
Milling Process: Washed, Sun-dried
Aroma: Floral, Citrus
Flavor: Chocolate, Sweet, Nutty (slight)
Body: Full
Acidity: Bright, Pleasant
Huehuetenango coffee is grown in the highland regions of northern Guatemala, producing perhaps the most distinguished Guatemalan coffee as it is often considered the best in the country overall.
Due to the high quality nature of the Guatemalan Huehuetenago coffees, many have undergone Organic and Fair Trade certification.
A Light Roast works well for revealing the fruity brightness of Guatemalan Huehuetenango, while a Dark Roast brings out the cocoa and bittersweet chocolate tastes.
Buy guatemala Coffee Beans from Canada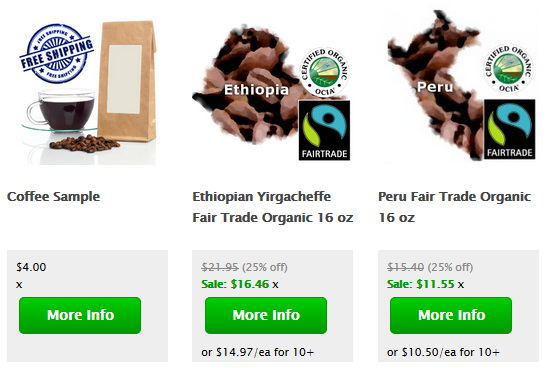 Green Coffee Production
60kg bags
2016: 3,500,000 = 462,000,000 lbs
2015: 3,419,881 = 451,424,252 lbs
2014: 3,310,076 = 436,930,019 lbs
2013: 3,189,371 = 420,997,025 lbs
2012: 3,762,933 = 496,707,169 lbs
Green Coffee Exports
60kg bags
2016: 0 = 0 lbs
2015: 3,029,880 = 399,944,160 lbs
2014: 2,925,080 = 386,110,560 lbs
2013: 3,121,370 = 412,020,840 lbs
2012: 3,706,930 = 489,314,760 lbs
Data may not be available for the most recent year.
Source: ICO
Facts

























Guatemala is the #9 largest coffee growing country in the world, in 2015 they...
produced 451,424,252 lbs
exported 399,944,160 lbs
That's over 89% exported!
Sounds like a lot? It's actually 2.3% of the coffee grown worldwide.

Guatemala coffee is grown on mountainside "fincas" (farms) at 1200 to 1700 meters above sea level
(that's 3,937 to 5,578 ft)
Source: ICO