What is a Spanish Coffee?
A spanish coffee is an alcoholic coffee beverage, made using hot brewed coffee, coffee liqueur and rum. It's a standard after-dinner desert drink in parts of Europe, but is more commonly a cooler-weather beverage in North America.
Since it's not very holiday-season oriented, this recipe is more commonly a weekend autumn afternoon drink.
Spanish Coffee (Carajillo) Recipe
The Spanish coffee originated as a war-time drink, combining rum and coffee to give the troops courage (coraje). It's been adopted and modified for the American tastes to include a coffee liqueur and whipped cream.
Ingredients
½

oz

Coffee Liqueur

eg. Kahlua

½

oz

Rum

6

oz

Coffee

hot brewed

Whipped cream

optional

1

Cherry
Instructions
Combine coffee liqueuer and rum into glass

Pour coffee into glass, stirring with a spoon

Optionally: use a spoon to top with whipped cream, maintaining separation of ingredients.
Notes
This Spanish Coffee recipe combines the best of coffee and alcohol into a pleasant after-dinner drink. The sweet liqueur and whipped cream means that typically sugar isn't needed.
Other Spanish Coffees
When visiting a Spanish speaking country, you'd typically order a more traditional drink:
Coffee: cafe
Black coffee: cafe negro
Cup of coffee: taza de cafe
White coffee: cafe blanco
Coffee with milk: cafe con leche
Note that most Latin-American and European countries make "coffee" as a long-espresso, and not drip-coffee. It's typically a darker roasted coffee, and the espresso extraction process means that there are more coffee solubles, making it more flavorful.
These specialty drinks tend to contain a lot of calories, whereas a straight black coffee contains almost none.
Coffee Selection
Truthfully, any coffee can be used to make a spanish coffee. The abundance of alcohol and sugar from the alcohol, whipped cream and cherry means that very little of the nuanced coffee flavor remains after brewing. We recommend using whatever coffee you regularly use, and using the correct amount of coffee per cup when brewing.
A dark roast is likely to keep the most flavor, as the more subtle nuances of a lighter roast will be easily lost. Your best bet is to go for a single origin that's commonly accepted as having the "default" coffee flavor. Colombian and Brazilian coffees are perfect for this, because they take a dark roast very well and are typically inexpensive.
Some people who have made this recipe have said that the Starbucks French Roast is excellent.
More premium coffees like those from Kenya or Ethiopia can also be used, but won't be to everyone's liking due to the higher acidity content and more floral/fruity notes that may interfere with the liqueurs.
Buy Gourmet Coffee Beans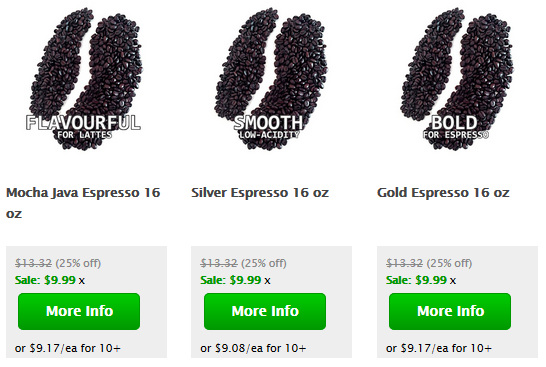 ✔️ Fresh roasted to order
✔️ 100% high qualtiy Arabica coffee
✔️ Custom grind (or whole bean)
✔️ 1-way valve, laminate bag (for freshness)
✔️ Bulk discounts