The Espresso Float is inspired by the Italian dessert "Affogato" which means "drowned." This dessert is typically made with a scoop of vanilla ice cream that is then drowned by an espresso shot poured over it. Popular in Europe, many variations in the West use different types of ice cream and toppings.
What you need for an Espresso Float:
Chocolate sprinkles
Syrup (eg. Torani Cane Sugar Syrup)
Espresso 1-2 oz
Coffee liquor
Vanilla ice cream
Rootbeer
Directions:
Pull espresso shot (see: how to pull an espresso shot)
Pour one ounce of coffee liquor into a shot glass
Rim a clear glass cup with syrup
Rim the glass with chocolate shavings or sprinkles
Place one or two scoops of vanilla ice cream in the cup
Pour coffee liquor on top
Pour your cooled shot of espresso
Top with root beer (optional)
The ice cream you use for your float will depend on your personal preference and what liquor you will use to pair it. Vanilla ice cream works with many popular liquors you might already have at home. The coffee liquor choices are almost endless and include some of these popular types: Kaluha or Tia Maria, alternatively, you can use a cream liquor such as Baileys Irish Cream or Tequila Rose in your float instead.
Kaluha is made with Arabica coffee beans and has notes of caramel and vanilla, making it a perfect pair with the vanilla ice cream and espresso combo. For the coffee, we recommend something with lots of flavor so that it doesn't get buried under the other ingredients - the Sumatra, Tanzania or a dark roasted Colombian coffee. Enjoy this combination with or without the root beer. Conversely, Tia Maria is made with Jamaican coffee beans and rum. Tia Maria would work well with a caramel scoop of ice cream, but we would skip the root beer on this one. The caramel ice cream will give a sweet, smooth finish to this float and complement the liquor well.
For the cream liquors, the Baileys Irish Cream has a mild taste and would work well with vanilla, chocolate or coffee chocolate flavored ice cream. Often described as having a frappe taste, the Baileys Irish cream drinks well because of the cold temperature the ice cream lends to this dessert. The tequila rose liquor tastes like a delicious strawberry milkshake, the contrasting flavor with the espresso will enhance the dessert quality of this drink. Pair the tequila rose with a plain vanilla ice cream. If you love strawberries go for the strawberry ice cream, have caution though because this will overwhelm the espresso and remember the espresso shot should always be the star of the show!
Buy Gourmet Coffee Beans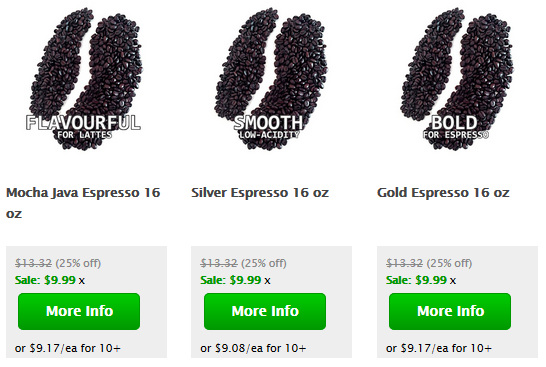 ✔️ Fresh roasted to order
✔️ 100% high qualtiy Arabica coffee
✔️ Custom grind (or whole bean)
✔️ 1-way valve, laminate bag (for freshness)
✔️ Bulk discounts