What is a Cafe Bombon?
The Café Bombon, whose name means "confection" is ideal for those with a sweet tooth. It draws its origins from Valencia, Spain and has gained widespread familiarity throughout Europe and Asia. In Malaysia, Thailand, and Singapore this coffee is called "Kopi Susu Panas" (Malaysia) or "Kafe Ron" (Thailand). In these areas, regular coffee often replaces the use of espresso. This recipe includes a dollop of whipped cream, but this is optional.
Cafe Bombon Recipe
This is a sweet, classic espresso recipe made with espresso, condensed milk, vanilla extract and cocoa powder. It can be optionally topped with whipping cream.
Ingredients
2

oz

Espresso

2

oz

Condensed Milk

2

oz

Whipping cream

heavy - optional

¼

teaspoon

Vanilla extract

2

teaspoon

Cocoa Powder
Instructions
Whip cream and vanilla extract with hand mixer until peaks form


Pull 2 ounces of espresso

Pour espresso into a glass cup

Pour the condensed milk into cup, the ratio of espresso and milk is 1:1

Sprinkle cocoa powder over the top
Notes
The Café Bombon is a sweet and thick espresso drink because the condensed milk contains no water and often has added sugar, as such, it is not recommended to add flavored syrups to this recipe.
Instead, aim for a naturally sweet coffee such as a Brazilian or Colombian, or possible a quality Guatemalan coffee.
Although traditionally this coffee is made with full-fat condensed milk, there are low-fat and fat-free options (But we can't guarantee it will taste just a delicious!).
Serving
It is best to serve this coffee in a clear glass cup; the condensed milk will fall to the bottom, and this allows the layer of espresso and crema to float on milk and the white whipped cream sits on top. Your guests will appreciate the lovely presentation of the contrasting color, and it looks beautiful served beside cookies or biscotti. The separation of these ingredients makes it necessary to serve with a spoon.
Guests should mix their drink before each sip to fully enjoy this delicious treat. For those with a lactose or dairy intolerance, a high quality almond or coconut milk can be used.
Variations
For the adventurous out there, you may want to try the Barraquito. Brought to you by the Canary Islands in Spain the Barraquito adds Licor 43 or Tia Maria Liqueur and lemon zest to this traditional Café Bombon recipe. The Licor 43 has hints of tangy fruit and spices to cool off the sweetness found in this drink. In contrast, The Tia Maria is sweeter and made with coffee beans creating a flavor that will blend more seamlessly with the Cafe Bombon.
One ounce of these liqueurs added to the espresso before you pour this drink together will add an extra dimension of luxury to the Cafe BomBon that your guests weren't expecting.
You can also substitute the espresso with a strong brewed coffee, using more coffee per cup than a traditional brew.
Buy Gourmet Coffee Beans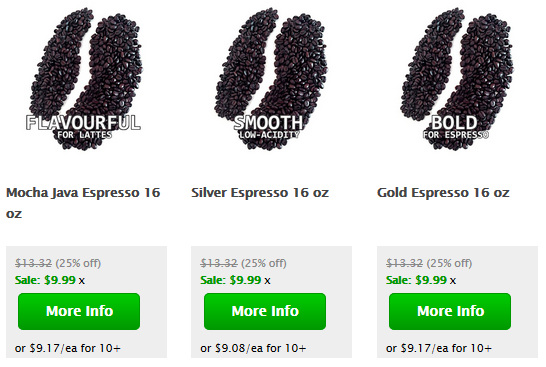 ✔️ Fresh roasted to order
✔️ 100% high qualtiy Arabica coffee
✔️ Custom grind (or whole bean)
✔️ 1-way valve, laminate bag (for freshness)
✔️ Bulk discounts