When the weather heats up, you don't want to walk around sipping your coffee piping hot, but you still want that caffeine fix plus the flavor of the coffee you've grown to crave — what can you do?
Millions of people around the world drink iced coffee, especially during the warmer seasons. It's become a beloved beverage in the United States and beyond, to the degree where there are stark differences between hot coffee and its iced alternative.
Why do people love iced coffee?
Many people drink iced coffee as a way to cool down their morning cup of Joe when the weather is warm, but this is an oversimplification of what iced coffee actually is.
Notes of flavor are present in iced coffee that you aren't able to detect in hot coffee, and while hot coffee is still beloved around the world, iced coffee has been surging onto the scene of late.
Iced coffee vs. iced Americano vs. cold brew
For the most part, there are three different ways to drink coffee cold: iced coffee, iced Americano, and cold brew. Each involves an element of extra strong brewing:
Iced coffee is regular coffee brewed hot at double strength and poured over ice, while an iced Americano is espresso and cold, filtered water poured over ice. Cold brew coffee is completely different, as its coffee that's "brewed cold" i.e. steeped in cold water.
The end result of brewing iced coffee and making an iced Americano is similar, as expected (the hot Americano originated as a way to mimic drop coffee for American G.I.s stationed in Italy). The differences are slight, and lie in the flavor profile. Iced coffee gives off notes of cola and caramel, while an iced Americano does not.
All of these brewing methods will give you varying amounts of coffee per cup.
Fun fact: The first instance of iced coffee dates back to 1840 in Algeria, to a sweetened coffee drink called Mazagran.
How can you customize iced coffee?
There are a number of ways to customize your iced coffee.
First, the beverage is brewed double-strength to prevent it from becoming watered down as ice melts. Some iced coffee drinkers choose to make coffee ice cubes to pour the brewed coffee over, so as not to change the flavor while drinking.
You can add sugar and other sweeteners to iced coffee, but because sugar and other granulated sweeteners dissolve better in hot liquids, it makes sense to add sugar, splenda, Stevia and other similar substances to coffee before you pour it over ice. Sweeteners like flavored syrup and agave just need to be stirred in, but also mix better in hot coffee.
Just like hot coffee, you can also put cream in iced coffee, as well as milk alternatives like soy milk, almond milk, coconut milk, and more, as long as you're aware of the way the flavor of your iced coffee will change with these dairy alternatives.
These sweeteners and "enhancers" will add a huge number of calories in your coffee, while black coffee contains almost none by itself.
Caramel Iced Coffee Recipe
Once just a source of energy to wake you up on Monday mornings, coffee is now a stylish drink that is always on trend thanks to the countless creations found at coffeehouses. From pumpkin spice to unicorn, the combinations seem limitless.
With so many choices, sometimes the best choice we can make is one of the simplest ones. Caramel is a classic flavor that can contribute to some of the best coffee combinations you can savor.
Before we jump into the instructions for this delicious recipe that'll make two servings - let's discuss the ingredients and how to make sure you're getting the best out of them.
Ingredients
4

oz

Coffee

brewed

1

oz

Caramel Sauce

4

oz

Milk

Sugar

optional

Garnish

ice cubes, whipped cream
Instructions
Pour your fresh brewed coffee into a jug and mix in the caramel sauce as well as the sugar

Fill a glass with ice, and pour your coffee into the glass


Garnish with the whipped cream and a bit more caramel sauce
Notes
The most important thing in this recipe is a delicious, properly brewed coffee. Here are some tips to help you make a coffee-house worthy brew:
Make sure you buy fresh, whole bean coffee
Grind immediately before brewing
Store your coffee beans in air-tight jars
Use filtered water
This recipe calls for a delicious caramel sauce, and it is critical that a sauce is used - not a syrup. Here's how to tell the difference:
Syrups are usually very sugary
Sauces tend to have a more savory taste to them - though caramel is used for desserts it isn't as sweet as many other treats
Sauces have a thicker consistency
Bonus: cafe-style caramel iced coffees often have vanilla syrup added, for a little richer flavor
Add as much sugar as you need, it will vary as everybody's taste buds are different.
Milk can be whatever your personal preference is - full fat, 1%, etc. 
Buy Gourmet Coffee Beans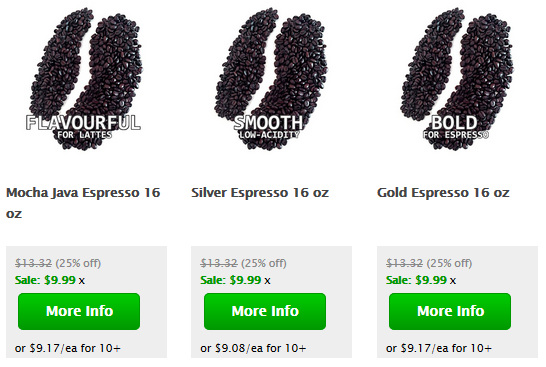 ✔️ Fresh roasted to order
✔️ 100% high qualtiy Arabica coffee
✔️ Custom grind (or whole bean)
✔️ 1-way valve, laminate bag (for freshness)
✔️ Bulk discounts