Considered Peru's finest premium gourmet coffee, Peruvian Chanchamayo is known for its medium body (sometimes light) with mild to bright acidity and delightful flavors and aromatic qualities, soft and sweet, and representing all of the best qualities of good South American and Central American coffees.
Characteristics of a Good Chanchamayo Coffee
A good Chanchamayo coffee is smooth and delicate, very well-balanced, and may have nutty and chocolaty tones and a sweet citrus taste in both the flavor and aroma as well as the pleasant finish/aftertaste.
The slightly nutty taste of Chanchamayo coffee is typical of Central American coffees and South American coffees, though Chanchamayo has a somewhat softer and more delicate flavor, and with the bright acidity of a good Central American coffee yet with a rustic accent. Also see Peru Urubamba Coffee; Peru Coffee.
Savor the Premium Exotic Coffees from Around the World!
Buy peru Coffee Beans from Canada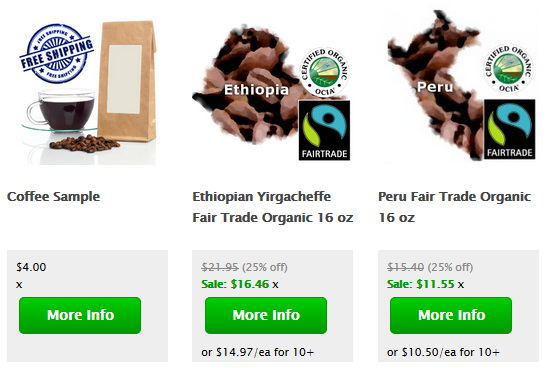 Green Coffee Production
60kg bags
2016: 3,800,000 = 501,600,000 lbs
2015: 3,300,978 = 435,729,122 lbs
2014: 2,883,229 = 380,586,228 lbs
2013: 4,338,089 = 572,627,788 lbs
2012: 4,452,925 = 587,786,087 lbs
Green Coffee Exports
60kg bags
2016: 0 = 0 lbs
2015: 3,060,980 = 404,049,360 lbs
2014: 2,443,230 = 322,506,360 lbs
2013: 4,110,090 = 542,531,880 lbs
2012: 3,930,920 = 518,881,440 lbs
Data may not be available for the most recent year.
Source: ICO