Grown on the Indonesian island of Sumatra, Mandheling is known as much for its smooth, full body (mouthfeel) as its rich, complex taste.
Sumatra Mandheling tasting notes often describe it as earthy and intense with an herbal aroma, unique to the region and not found in South American or African coffees.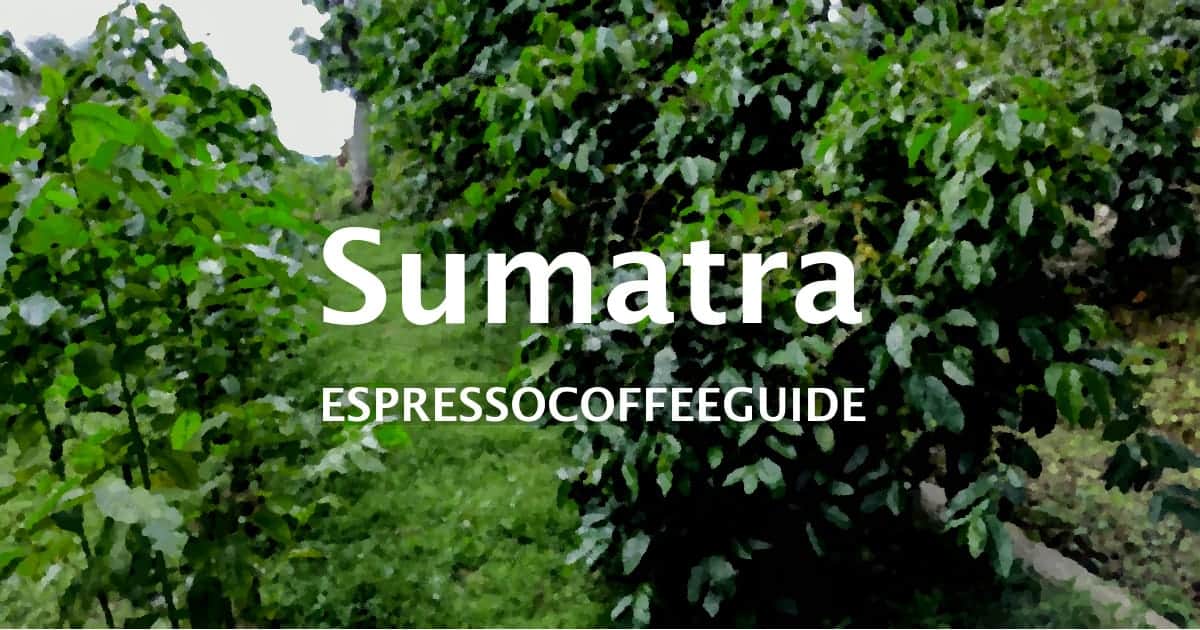 With just enough acidity to provide a vibrancy, Mandheling coffee often exhibits tones of sweet chocolate and licorice. The flavour of the coffee develops well because of the rich volcanic soil and tropical climate, despite not being very high altitude.
Region: Batak Region of West-Central Sumatra, Aceh
Growing Altitude: 750 - 1,500 meters above sea level
Arabica Variety: Catimor, Typica
Harvest Period: June - December
Milling Process: Giling Basah (wet-hulled), sundried
Aroma: Slightly Earthy
Flavor: Herbal, Chocolate, Clean Earthy, Woody Notes, Spicy
Body: Full
Acidity: Low
The coffee is named after north Sumatra's Mandailing people - an ethnic group and not so much a region.
Jump to:
Processing
Though Mandheling coffees are dry processed, the method includes washing the dried husk of the coffee cherry (fruit) in hot water which provides a more uniform appearance of the coffee beans than typical dry processed green coffee beans, and likely contributes to the coffee's fine flavor.
Sumatra Mandheling coffee grows in Padang's west-central region between 2,500 and 5,000 feet above sea level. The coffee is often given a Dark Roast or Medium-Dark Roast to bring out the coffee's sweet taste as well as its earthy qualities.
Organic
The standard farming practices would be considered "organically growing" by the modern world, but there are indeed Fair Trade and Organic certified Sumatran coffees available. These practices solidify that the farmers in the region adhere to rigorous practices, but doesn't necessarily guarantee a better cup of coffee.
Organic practices have a tendency to starve the trees of essential nutrients that allow them to better develop the distinct flavours they're known for. As such, we typically recommend regular Sumatran Mandheling Coffee over the Organic certified ones due to price.
Roasting
Mandheling coffees have very prominent spicy flavours and a body that are prominent at any roast. A medium roast will always retain most of the nuanced spice flavors, but can sometimes taste underwhelming to those who are used to dark roasts.
If you want an even heavier-bodied coffee then it can be taken even as far as a French Roast. The strong, prominent spicy flavours stay true into darker roasts, better than most other coffee beans.
Starbucks Christmas blend for 2016 prominently features Sumatran coffees roasted dark.
Brewing
Sumatra Mandheling is also a great coffee for cold brewed specialty coffee drinks (espresso drinks), and takes milk or cream well without loss of flavor. For the best experience, Sumatran Mandheling coffee should be ground for the type of coffee brewer you're using - this is easy if ordering from a specialty coffee roaster who grinds it for you, otherwise selecting the appropriate setting on your grinder (burr rather than blade) will achieve this.
We recommend using a fine mesh filter rather than a paper filter if going the pour over (eg. Chemex) route, to retain the coffee oils that contribute to the flavour. This is of course a personal preference, and those who find the oils and incidental coffee grounds off-putting should use a paper filter if needed.
For more tips on brewing the perfect cup of Sumatra Mandheling coffee see the Espresso Coffee Guides section on coffee brewing.
For easy to follow instructions on how to make fantastic Sumatra Mandheling espresso drinks see Espresso Drink Recipes and then dive into the How to make a Latte so you can make beverages like the best trained baristas at high-end coffee shops. Also provided are tips on Pulling A Perfect Espresso Shot.
Buy Mandheling Coffee Beans
✔️ Fresh roasted to order
✔️ 100% high qualtiy Arabica coffee
✔️ Custom grind (or whole bean)
✔️ 1-way valve, laminate bag (for freshness)
✔️ Bulk discounts
Green Coffee Production
| | | |
| --- | --- | --- |
| Year | 60kg bags | Coffee grown |
| 2016 | 10,000,000 bags | 1,320,000,000 pounds |
| 2015 | 12,317,475 bags | 1,625,906,713 pounds |
| 2014 | 11,418,277 bags | 1,507,212,604 pounds |
| 2013 | 11,265,194 bags | 1,487,005,621 pounds |
| 2012 | 11,518,538 bags | 1,520,447,016 pounds |
Green Coffee Exports
| | | |
| --- | --- | --- |
| Year | 60kg bags | Coffee exported |
| 2016 | 0 | 0 pounds |
| 2015 | 7,985,480 | 1,054,083,360 pounds |
| 2014 | 6,679,280 | 881,664,960 pounds |
| 2013 | 9,954,190 | 1,313,953,080 pounds |
| 2012 | 11,257,540 | 1,485,995,280 pounds |
Data may not be available for the most recent year.
Source: ICO