Grown in the country's central highlands, Bali coffees are a relatively new addition to the premium gourmet coffee market. Bali coffee reviews often note it as having a rich aroma, with a smoky (wood) flavor and full body. These are well developed thanks to mineral rich volcanic soil and practices that involve natural manure and shade-growing, allowing the coffee beans to mature slowly, despite being primarily High Grown.
Bali Coffee Production and Processing
The Bali coffee supply is limited, and the coffee is usually wet processed (washed) though there are also notable dry processed (unwashed; natural) Bali coffees. They growing areas tend to be on volcanic soils, providing a rich source of nutrients and allowing the trees to develop rich flavors that tasting notes describe as woody and earthy. While not typically Organic certified, the coffees trees are most often "organically grown" using manure from local farmlands, and shade-growing is frequently done.
In particular, the dry processed (unwashed; natural), light-roasted coffee from Roasterie Tri Hit Karana is said to exhibit intense reflections of fermentation that develops during the drying, and displays a cherry-brandy quality.
Also dry-processed Bard Coffee Kintamani Organic, which is given a medium roast, reveals dark chocolate notes and a pungent herb quality.
Production volumes in Bali are not significant, and it is grouped in with the rest of Indonesia in reporting by the ICO, making volumes difficult to determine.
Characteristics of Bali Coffee
Bali coffee has been compared, in both its good and bad qualities, to Papua New Guinea coffees. Bali coffee is highly valued among Japan's coffee drinkers who are said to appreciate the quality processing and the translucent emerald-colored coffee beans.
Buying Bali Coffee Beans
Green coffee importers work with local distributors and brokers to import Bali coffees into the United States and Canada, where coffee isn't grown (aside from Hawaii). With the relatively low production volumes, Bali coffees are both on the expensive side and difficult to find.
The price and complex flavor of Bali's coffees lend it best to a medium roast. Ordering whole bean coffees from a specialty coffee roaster who will deliver within a week of roasting is your best bet for peak flavor.
As always, we recommend ordering the roast you really want rather than listening to the advice of so-called "experts" - your coffee is yours to enjoy.
Bali Coffee and Espresso Brewing Tips
For tips on brewing the perfect cup of Bali coffee see our section on coffee brewing. We also provide detailed coffee flavor profiles of Specialty Coffees and instructions on preparing Espresso Drink Recipes.
For espresso brewing tips see Pulling A Perfect Espresso Shot as well as How to make Lattes and Cappuccinos.
For detailed definitions of coffee terminology see the Coffee and Espresso Glossary.  Also check out the World's Best History of Coffee.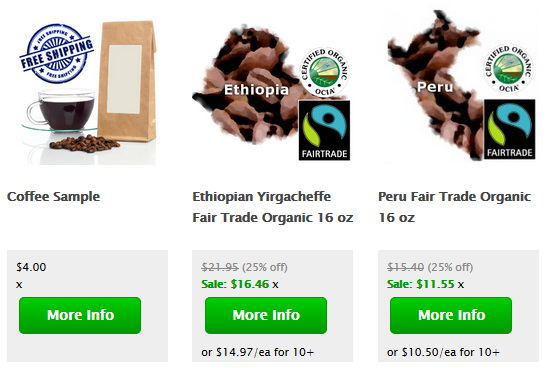 Green Coffee Production
60kg bags
2016: 10,000,000 = 1,320,000,000 lbs
2015: 12,317,475 = 1,625,906,713 lbs
2014: 11,418,277 = 1,507,212,604 lbs
2013: 11,265,194 = 1,487,005,621 lbs
2012: 11,518,538 = 1,520,447,016 lbs
Green Coffee Exports
60kg bags
2016: 0 = 0 lbs
2015: 7,985,480 = 1,054,083,360 lbs
2014: 6,679,280 = 881,664,960 lbs
2013: 9,954,190 = 1,313,953,080 lbs
2012: 11,257,540 = 1,485,995,280 lbs
Data may not be available for the most recent year.
Source: ICO
Facts

























Indonesia is the #4 largest coffee growing country in the world, in 2015 they...
produced 1,625,906,713 lbs
exported 1,054,083,360 lbs
That's over 65% exported!
Sounds like a lot? It's actually 8.1% of the coffee grown worldwide.

Indonesia coffee is grown on mountainside "fincas" (farms) at 1000 to 1500 meters above sea level
(that's 3,281 to 4,922 ft)
Source: ICO