Grown in the southern region of the country, coffee from India exhibits a moderate body and acidity.
Indian Mysore Coffee
Indian Mysore coffee is a market name for high-quality wet processed (washed) coffees from the southern region in the state of Karnataka. The coffee is known for its subtle, rich flavor complemented by a medium to full body and moderate though distinct acidity.
Tasting Notes
A good India coffee exhibits characteristics similar to Indonesian coffees, particularly Java Arabica including a full body yet with an acidity more in line with a good Guatemala Coffee.
The spicy flavors of a fine India coffee may include notes of cardamom, clove, pepper and nutmeg and perhaps hints of tropical fruit.
Coffee Growing Regions
Indian Mysore coffee is grown in the southern district of Nilgiris and Shevaroys generally exhibit higher levels of acidity than other coffees of the region. Respected Indian coffee is also grown in the states of Tamilnadu (which used to be called Madras) and Kerala.
Monsooning Indian Coffee Beans
India coffees are often left out in large, open-roof silos or in open warehouses during the monsoon season to be exposed to the moisture-laden winds.
This monsooning of the coffee beans may continue for as long as three years and results in a strengthening of the coffee's sweetness, often creating intense woody and loamy sensations - and a weakening of the acidity.
The monsooned coffee beans also undergo a distinct color change from the original green tint of the coffee beans to a yellowish or light brown color. The muted acidity and heavy body of the coffee beans makes monsooned coffees a good choice for adding depth to espresso blends.
Indian Monsooned Malabar Coffee Beans
A complex-flavored coffee grown in India and produced by leaving dry processed (unwashed; natural) Mysore coffee beans out in large, open-roof silos or open warehouses during India's monsoon season - this is done to reduce the coffee's acidity and enhance its body.
Monsooned Malabar Tasting Notes
Indian Monsooned Malabar coffee is known to be extremely low in acids with a clean taste that is slightly winey and spicy. The unroasted Monsoon Malabar coffee beans are a light color similar to peanuts, and also appear somewhat cleaner and plumper than standard coffee beans.
Other coffee beans processed in this way may also be referred to as monsooned.
The Sarchimor Coffee Plant Varietal
One of the coffee plant varietals growing in India is called Sarchimor and is a hybrid between the Timor varietal and the Costa Rican Villa Sarchi varietal (Coffea arabica var. villa sarchi).
Due to traits inherited from the Timor varietal (which is itself a hybrid of Coffea arabica and Coffea canephora var. robusta), Sarchimor has a significant resistance to the coffee disease coffee leaf rust as well as the stem borer. The Sarchimor varietal grows in India as well as Costa Rica.
Also see India Monsooned Malabar Coffee; Monsooned Mysore Coffee; India Mysore Coffee.
Indian Coffee and Espresso Brewing Tips
For tips on brewing the perfect cup of Indian coffee see our section on coffee brewing. You can also read detailed coffee flavor profiles of gourmet coffee and instructions on preparing Espresso Drink Recipes.
For espresso brewing tips see Pulling A Perfect Espresso Shot as well as How to make a Latte.
Detailed definitions of coffee and espresso terms can be found in the Coffee Terms.  Also see the World's Best History of Coffee.
Buy india Coffee Beans from Canada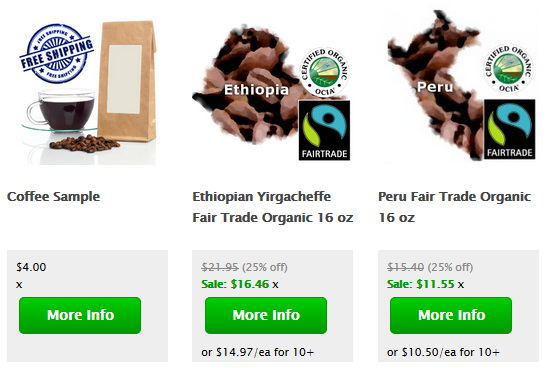 Green Coffee Production
60kg bags
2016: 5,333,333 = 703,999,956 lbs
2015: 5,800,338 = 765,644,629 lbs
2014: 5,449,867 = 719,382,444 lbs
2013: 5,075,331 = 669,943,718 lbs
2012: 5,303,441 = 700,054,186 lbs
Green Coffee Exports
60kg bags
2016: 0 = 0 lbs
2015: 5,861,340 = 773,696,880 lbs
2014: 5,114,870 = 675,162,840 lbs
2013: 5,095,330 = 672,583,560 lbs
2012: 4,859,440 = 641,446,080 lbs
Data may not be available for the most recent year.
Source: ICO