Growing Region
Mysore coffee is grown in India in the State of Karnataka, which was formerly known as Mysore. About 80% of Indian coffee comes from Karnataka, and this coffee is often sold as Indian Mysore.
Tasting Notes
A good Indian Mysore is sweet with a medium to full body and a subtle, rich flavor complemented by a medium acidity.
Mysore Straight coffee is also called Indian Mysore Coffee and may be aged and exposed to the moist winds of the monsoon season.
Monsooned Mysore Coffee
After the monsooned Mysore coffee beans are exposed to moist winds during the monsoon season they are characterized by a yellowish color and a reduced acidity. The brewed cup takes on a syrupy flatness, often quite heavy, and comparable to aged coffees.
Monsooned Mysore Coffee Blends
Monsooned Mysore coffee is often blended with other coffee beans to add mellow and rich qualities while also reducing its acidity. The most respected of the Monsooned Mysore coffees is Monsooned Malabar coffee.
Also see India Monsooned Malabar Coffee; India Coffee.
Coffee Brewing Tips
For some great tips on brewing the perfect India Monsooned Mysore cup of coffee see our detailed section on coffee brewing. You can also read comprehensive coffee taste profiles of gourmet coffee and instructions on preparing Espresso Drink Recipes.
Detailed definitions of coffee and espresso terms can be found in the Coffee Terms.  Also check out the World's Best History of Coffee.
Buy india Coffee Beans from Canada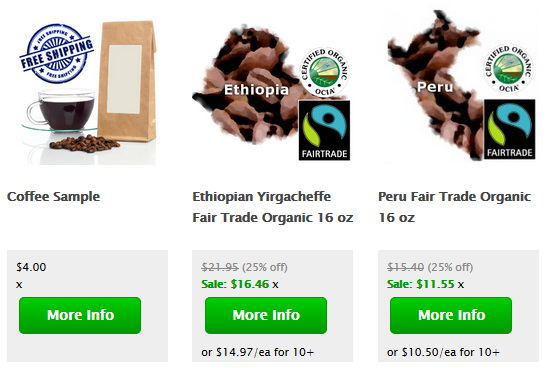 Green Coffee Production
60kg bags
2016: 5,333,333 = 703,999,956 lbs
2015: 5,800,338 = 765,644,629 lbs
2014: 5,449,867 = 719,382,444 lbs
2013: 5,075,331 = 669,943,718 lbs
2012: 5,303,441 = 700,054,186 lbs
Green Coffee Exports
60kg bags
2016: 0 = 0 lbs
2015: 5,861,340 = 773,696,880 lbs
2014: 5,114,870 = 675,162,840 lbs
2013: 5,095,330 = 672,583,560 lbs
2012: 4,859,440 = 641,446,080 lbs
Data may not be available for the most recent year.
Source: ICO