What is Espresso?
The beverage espresso is made in an espresso machine (espresso coffee maker) for pressurized extraction, forcing very hot water under high pressure through a compressed bed of roasted, ground coffee (espresso means "pressed out").
Espresso Is Also the Name of a Roast Type
The term espresso also refers to a type of coffee roast (Espresso Roast) resulting in a particular style of roasted coffee bean (see Espresso Beans) that are often used in espresso machines to brew espresso.
Also see: The Top Ten Coffees in the World
Espresso Is a Culture!
Lastly, the term espresso is used in a broader sense to denote the whole espresso cuisine based around the brewed espresso beverage and the associated traditional menu of espresso-based coffee drinks (espresso drinks), many of which utilize steamed milk or cream as well as the associated foam.
Espresso Coffee - The Classic and Traditional Espresso
The classic espresso consists of one shot of espresso (about 1½ ounces), best served in a pre-heated, 3-ounce demitasse (French for "half cup).
Coffee Beans Used for Espresso
Coffee beans used for making espresso are usually given a Dark Roast (e.g., Espresso Roast) and the grind size is typically very fine, producing a concentrated coffee beverage.
Gourmet Espresso and Coffee Brewing Tips
For more excellent espresso tips see our detailed coffee flavor profiles of gourmet coffee and also detailed instructions on preparing Espresso Drink Recipes. For step-by-step instructions you can also see Pulling A Perfect Espresso Shot as well as How to make a Latte.
For tips on brewing the perfect cup of coffee see our section on coffee brewing, and detailed definitions of coffee terminology can be found in the Coffee Terms.  Also check out the World's Best History of Coffee.
Thank You for Visiting Espresso Coffee Guide and Reading About Espresso Coffee! Savor Your Coffee and Espresso!
Also see: Steaming and Frothing Milk
Buy Gourmet Coffee Beans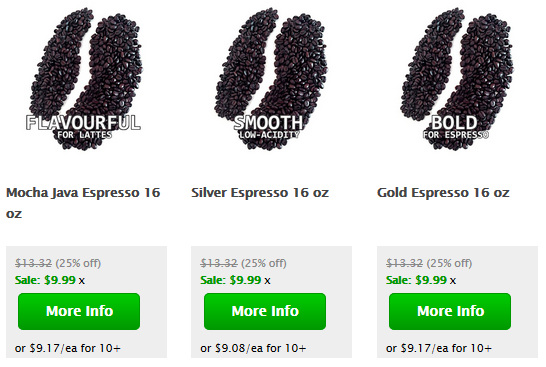 ✔️ Fresh roasted to order
✔️ 100% high qualtiy Arabica coffee
✔️ Custom grind (or whole bean)
✔️ 1-way valve, laminate bag (for freshness)
✔️ Bulk discounts