A high-grown coffee of the Dominican Republic, Barahona is widely considered to be the finest of the country's premium gourmet coffees.
Barahona is a market name, and the coffee in general is notable for its rich flavor with high acidity. Considered somewhat similar to gourmet Jamaican coffees, Barahona is grown in the southeast region of the Dominican Republic.
Also see Dominican Republic Cibao Altura Coffee; Dominican Republic Bani Coffee; Dominican Republic Ocoa Coffee; Dominican Republic Coffee.
Dominican Republic Barahona Coffee and Espresso Brewing Tips
For tips on brewing the perfect cup of Dominican Republic Barahona coffee see our section on coffee brewing. You can also read detailed coffee flavor profiles of Specialty Coffees and instructions on preparing Espresso Drink Recipes.
Detailed definitions of coffee and espresso terms can be found in the Coffee Terms.
Buy dominican Coffee Beans from Canada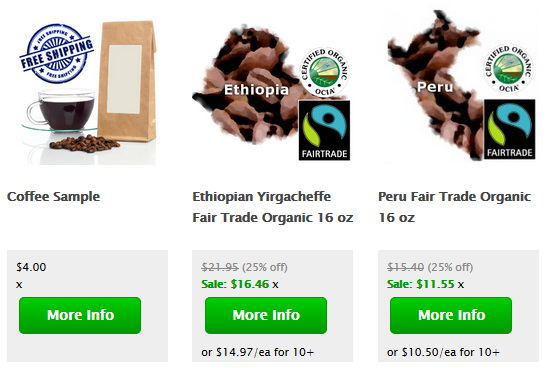 Green Coffee Production
60kg bags
2016: 400,000 = 52,800,000 lbs
2015: 399,954 = 52,793,968 lbs
2014: 396,954 = 52,397,941 lbs
2013: 425,394 = 56,151,955 lbs
2012: 488,431 = 64,472,852 lbs
Green Coffee Exports
60kg bags
2016: 0 = 0 lbs
2015: 19,950 = 2,633,400 lbs
2014: 18,950 = 2,501,400 lbs
2013: 55,060 = 7,267,920 lbs
2012: 113,430 = 14,972,760 lbs
Data may not be available for the most recent year.
Source: ICO
Facts

























Dominican is the #24 largest coffee growing country in the world, in 2015 they...
produced 52,793,968 lbs
exported 2,633,400 lbs
That's only 5% exported!
Sounds like a lot? It's actually 0.3% of the coffee grown worldwide.

Dominican coffee is grown on mountainside "fincas" (farms) at 1300 to 1500 meters above sea level
(that's 4,265 to 4,922 ft)
Source: ICO