Toraja Coffee from Sulawesi (Celebes) is a multi-dimensional coffee grown in the southeastern highlands and distinguished by its expansive flavor with a full-bodied richness.
Characteristics of Sulawesi Toraja Coffee
A good Toraja is well-balanced with undertones of ripe fruit and dark chocolate. Toraja coffee tends to have a relatively low-toned yet vibrant acidity, though usually slightly more acidic and with less body than Sumatran coffees and more earthy than Java Arabica.
Like Sumatran coffees, the cup profile of Toraja has been called deep and brooding, with muted fruit notes and rustic sweetness and often a pungent spicy quality. A Dark Roast is recommended.
Sulawesi Toraja Coffee Growing Regions
Sulawesi Toraja coffee is grown at relatively high altitudes on the island of Sulawesi, which was formerly called Celebes (the Dutch colonial name), located in the middle of the Indonesia's Malay archipelago. For this reason Toraja coffee is also known as Celebes. Kalossi is a coffee growing area in the country's southeastern highlands.
Sulawesi Toraja Coffee Processing - The Giling Basah Wet-Hull Method
Processing of Toraja coffee is done by the Giling Basah wet-hull method, which produces chaff-free green coffee beans (milled but not yet roasted) with a distinct dark tint. The semi-dry processing, which sometimes leads to uneven roasting, has a significant effect on the character of the brewed coffee.
In some cases the coffee processing creates a musty or hard taste, or a strong earthiness that is admired by some people though others find it unpleasant.
Premium Gourmet Sulawesi Toraja Coffee
The best Toraja coffees come from the area's small farms north of Toraja at higher altitudes, and this coffee is generally superior to the coffee grown in more southern areas at lower elevations.
Sulawesi Toraja Coffee and Espresso Brewing Tips
For tips on brewing the perfect cup of Sulawesi Toraja coffee see coffee brewing. You can also read flavor profiles of the tastes, aromas and other qualities of the world's gourmet coffee and very detailed and easy to follow instructions on preparing Espresso Drink Recipes.
For step-by-step instructions see Pulling A Perfect Espresso Shot as well as How to make a Latte.
Buy Sulawesi Coffee Beans From Canada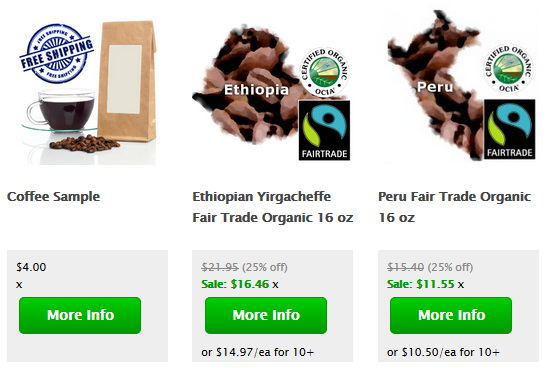 Green Coffee Production
| | | |
| --- | --- | --- |
| Year | 60kg bags | Coffee grown |
| 2016 | 10,000,000 bags | 1,320,000,000 pounds |
| 2015 | 12,317,475 bags | 1,625,906,713 pounds |
| 2014 | 11,418,277 bags | 1,507,212,604 pounds |
| 2013 | 11,265,194 bags | 1,487,005,621 pounds |
| 2012 | 11,518,538 bags | 1,520,447,016 pounds |
Green Coffee Exports
| | | |
| --- | --- | --- |
| Year | 60kg bags | Coffee exported |
| 2016 | 0 | 0 pounds |
| 2015 | 7,985,480 | 1,054,083,360 pounds |
| 2014 | 6,679,280 | 881,664,960 pounds |
| 2013 | 9,954,190 | 1,313,953,080 pounds |
| 2012 | 11,257,540 | 1,485,995,280 pounds |
Data may not be available for the most recent year.
Source: ICO
Facts

























Indonesia is the #4 largest coffee growing country in the world, in 2015 they...
produced 1,625,906,713 lbs
exported 1,054,083,360 lbs
That's over 65% exported!
Sounds like a lot? It's actually 8.1% of the coffee grown worldwide.

Indonesia coffee is grown on mountainside "fincas" (farms) at 1400 to 1900 meters above sea level
(that's 4,593 to 6,234 ft)
Source: ICO