The Tarrazu region is located in the interior mountains of Costa Rica and is known to produce distinguished coffee. Tarrazu is a market name for coffees produced and processed within the region. Coffee from this area is known to be relatively heavy-bodied with a complex aroma.
Growing Altitude: 1200-1800 meters above sea level
Region: Tarrazu

Arabica Variety: Caturra, Catuai

Harvest Period: December - February

Milling Process: Washed, Drum Dried

Aroma: Intense, Fragrant, Brown Sugar

Flavor: Citrus, Tropical Fruit, Apricot

Body: Round
Acidity: Lively, Bright
Environmental Impact of Coffee Processing
The harvesting from December through February leads to a lot of biological waste (the coffee cherries) during the processing of the coffee beans, which are depulped and washed. While the leftover coffee cherries can sometimes be used as fertilizer, the sheer volume is too much and most of it is simply dumped into rivers, changing the chemical quality of the water and affecting wildlife. One way to mitigate this is through the development of alternative products such as cascara (coffee cherry tea) and coffee flour - which reduces the environmental impact of such a large volume crop by turning waste into a viable food product. Not only is this great for the environment, but also provides a secondary revenue stream for local farmers.
The Starbucks Reserve Costa Rica La Candeililla Estate Coffee (no longer available) was a finca (farm) based out of the Tarrazu region.
Costa Rica Tarrazu Coffee and Espresso Brewing Tips
For tips on brewing the perfect cup of Tarrazu coffee see the Espresso Coffee Guides section on coffee brewing.
For easy to follow instructions on how to make great Tarrazu espresso drinks see Espresso Drink Recipes and the How to make Lattes and Cappuccinos. Also provided are tips on Pulling A Perfect Espresso Shot.
Buy tarrazu Coffee Beans from Canada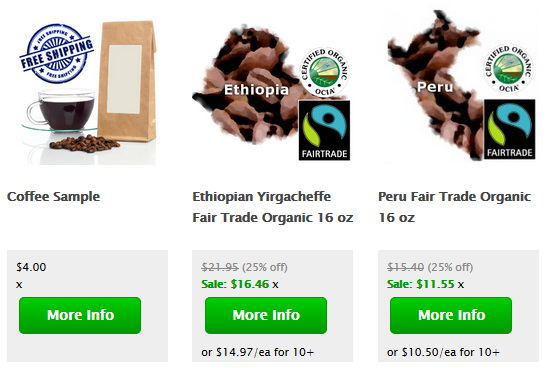 Green Coffee Production
60kg bags
2016: 1,486,036 = 196,156,752 lbs
2015: 1,633,630 = 215,639,213 lbs
2014: 1,407,752 = 185,823,290 lbs
2013: 1,443,758 = 190,576,069 lbs
2012: 1,657,814 = 218,831,395 lbs
Green Coffee Exports
60kg bags
2016: 0 = 0 lbs
2015: 994,740 = 131,305,680 lbs
2014: 1,144,610 = 151,088,520 lbs
2013: 1,236,560 = 163,225,920 lbs
2012: 1,380,100 = 182,173,200 lbs
Data may not be available for the most recent year.
Source: ICO
Facts

























Costa Rica is the #14 largest coffee growing country in the world, in 2015 they...
produced 215,639,213 lbs
exported 131,305,680 lbs
That's over 61% exported!
Sounds like a lot? It's actually 1.1% of the coffee grown worldwide.

Costa Rica coffee is grown on mountainside "fincas" (farms) at 1200 to 1800 meters above sea level
(that's 3,937 to 5,906 ft)
Source: ICO