San Marcos de Tarrazu is a coffee growing region of Costa Rica which produces some of the country's most distinguished coffees.
The Tarrazu region is located in the country's interior mountains, and Tarrazu is a market name. Coffee from this area is known to be relatively heavy-bodied and exhibits an aromatic complexity.
San Marcos de Tarrazu and the Talamanca Sierra
San Marcos de Tarrazu is situated in southern Costa Rica in a highland valley surrounded by the mountains of the Talamanca Sierra. The downtown area is located at 1,350 meters above sea level with surrounding peaks as high as 3,000 meters above sea level.
This region is ideal for growing coffee because  of the rich, red volcanic soils and because many of the mountain slopes face the morning sunlight and then clouds are common during the afternoons, providing protection from the hottest hours of sun.
Also see Costa Rica Coffee.
Buy tarrazu Coffee Beans from Canada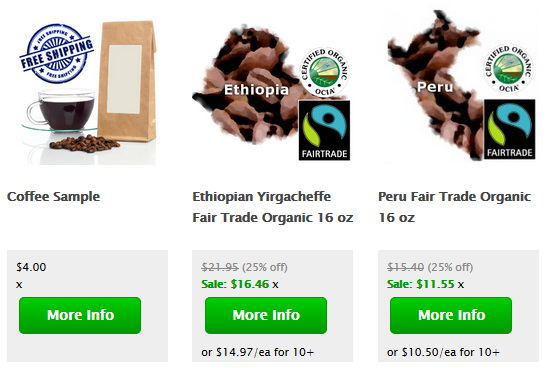 Green Coffee Production
60kg bags
2016: 1,486,036 = 196,156,752 lbs
2015: 1,633,630 = 215,639,213 lbs
2014: 1,407,752 = 185,823,290 lbs
2013: 1,443,758 = 190,576,069 lbs
2012: 1,657,814 = 218,831,395 lbs
Green Coffee Exports
60kg bags
2016: 0 = 0 lbs
2015: 994,740 = 131,305,680 lbs
2014: 1,144,610 = 151,088,520 lbs
2013: 1,236,560 = 163,225,920 lbs
2012: 1,380,100 = 182,173,200 lbs
Data may not be available for the most recent year.
Source: ICO
Facts

























Costa Rica is the #14 largest coffee growing country in the world, in 2015 they...
produced 215,639,213 lbs
exported 131,305,680 lbs
That's over 61% exported!
Sounds like a lot? It's actually 1.1% of the coffee grown worldwide.

Costa Rica coffee is grown on mountainside "fincas" (farms) at 1200 to 1800 meters above sea level
(that's 3,937 to 5,906 ft)
Source: ICO