New Guinea Sigri coffee is one of the most distinguished Papua New Guinea coffees, exhibiting a well-balanced, modestly rich taste with a fruity aroma. It's physically connected to West Guinea, and Vanuatu is a nearby coffee-growing island.
Review: New Guinea Sigri Coffee
Sometimes earthy in its body, Sigri is not quite as full-bodied as a Sumatran coffee or as aromatic as a fine Sulawesi Toraja, yet just as fruity as a Sulawesi coffee and with a pleasantly exotic quality that makes for a classic brewed cup.
New Guinea Coffee Growing and Processing
New Guinea coffees are wet processed (washed) coffees.
New Guinea coffee is grown in the mountain highlands of Papua New Guinea, mostly on small plantations that are sometimes called peasant patches because peasants do the coffee plant cultivation.
Other New Guinea Coffee Regions
See: Papua New Guinea Coffee; New Guinea Arona Coffee; New Guinea Kimel Coffee.
New Guinea Sigri Coffee and Espresso Brewing Tips
For tips on brewing the optimal cup of New Guinea coffee see our section on Coffee Brewing. You can also read coffee flavor profiles of the world's top Specialty Coffees and then check out the comprehensive instructions on preparing delightful Espresso Drink Recipes.
For espresso brewing tips see Pulling A Perfect Espresso Shot and then hone your high-end coffee shop skills with the How to make a Latte.
Buy sigri Coffee Beans from Canada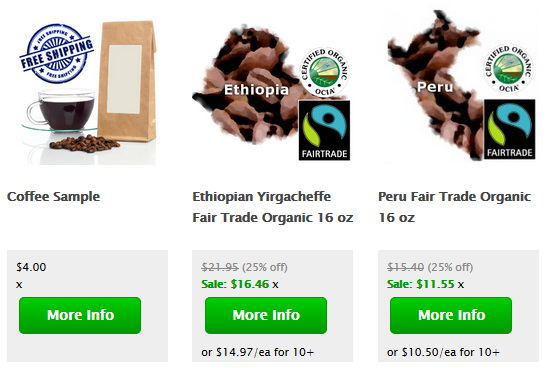 Green Coffee Production
60kg bags
2016: 0 = 0 lbs
2016: 200,000 = 26,400,000 lbs
2016: 900,000 = 118,800,000 lbs
2015: 0 = 0 lbs
2015: 176,839 = 23,342,761 lbs
Green Coffee Exports
60kg bags
2016: 0 = 0 lbs
2016: 0 = 0 lbs
2016: 0 = 0 lbs
2015: 0 = 0 lbs
2015: 126,840 = 16,742,880 lbs
Data may not be available for the most recent year.
Source: ICO