Sidamos, Yirgacheffes, Harrars and Ghimbi Coffees - Variations on a Theme
Most premium coffee connoisseurs will quickly tell you that Ethiopian coffees are among the Top Ten Coffees in the World. With a wildness in the acidity that will put a pep in your step, and a delicious winey and pungent character.
Ethiopia's Coffee Growing Regions
Ghimbi coffees are produced in the western region of Ethiopia. Known for their complex tastes and aromas, the Ghimbi coffees are known for their sharp acidity and richness.
Complex, full-bodied Sidamo coffees are grown in southern Ethiopia exhibiting a very rich mouthfeel with a bright and lively finish.
Also grown in the south are the delicate-bodied Yirgacheffes with a spicy fragrance, floral aroma and pleasant, sweet taste followed with tones of citrus. Most of the finest southern Ethiopia coffees are wet processed coffees.
In Ethiopia's eastern region, however, the finest coffees are generally dry processed. These are the Harrars known for their winey and fruity notes with tones of blueberry and a pleasant overall complexity with a dry edge. Harrars are bright coffees with the acidity sometimes described as brilliant.
Ethiopia's Djimma coffees may be wet or dry processed, with the wet-processed Djimmas generally being well-respected as a low-acid coffee.
Other fine Ethiopian coffees include Lekempti and Limu. Grown as high as 6,200 feet above sea level, Limu coffee is well balanced with a low acidity and nice spicy and winey flavors providing a sweet vibrancy to the coffee, sometimes quite sharp.
The Ethiopian Coffee Ceremony
Coffee is a revered part of the culture and daily life in Ethiopia. See the Ethiopian Coffee Ceremony to learn about the traditions and rituals associated with the daily tradition of serving and enjoying coffee in Ethiopia.
More details about Ethiopia's long tradition with coffee and its role in the spread of coffee around the globe can be found in the World's Best History of Coffee.
Buy ethiopian Coffee Beans from Canada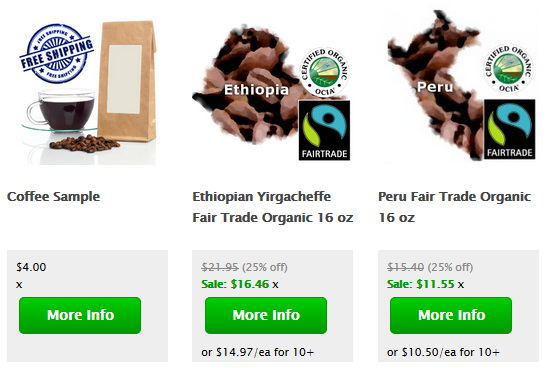 Green Coffee Production
60kg bags
2016: 6,600,000 = 871,200,000 lbs
2015: 6,713,975 = 886,244,753 lbs
2014: 6,625,262 = 874,534,558 lbs
2013: 6,527,444 = 861,622,595 lbs
2012: 6,233,007 = 822,756,871 lbs
Green Coffee Exports
60kg bags
2016: 0 = 0 lbs
2015: 3,091,980 = 408,141,360 lbs
2014: 2,872,260 = 379,138,320 lbs
2013: 3,044,440 = 401,866,080 lbs
2012: 3,166,010 = 417,913,320 lbs
Data may not be available for the most recent year.
Source: ICO
Facts

























Ethiopia is the #5 largest coffee growing country in the world, in 2015 they...
produced 886,244,753 lbs
exported 408,141,360 lbs
That's only 46% exported!
Sounds like a lot? It's actually 4.4% of the coffee grown worldwide.

Ethiopia coffee is grown on mountainside "fincas" (farms) at 1500 to 2200 meters above sea level
(that's 4,922 to 7,218 ft)
Source: ICO