Cerrado coffee is generally clean with a good body (creamy mouthfeel), low acidity, well-balanced, and often exhibiting a nutty and even slightly caramelly flavor when light-roasted, perhaps even malty, though more chocolaty if given a darker roast.
Coffee Growing in the Cerrado Region
Coffee growing elevations in the Cerrado region average about 850 meters and the growing areas are huge, providing large quantities of coffee.
Mechanical harvesting and mass processing are the norm with Cerrado coffee, providing large amounts of coffee which is exported from the country.
Mechanical Coffee Harvesting
The relatively flat topography of the Cerrado region makes it possible to utilize mechanical harvesting while also assuring some consistency of quality in choosing the optimal time to pick the coffee beans, which generally do not ripen all at once - different fruit ripen at different times over a period of one to four months.
Also see Brazil Bourbon Santos Coffee; Brazil Coffee.
Buy brazil Coffee Beans from Canada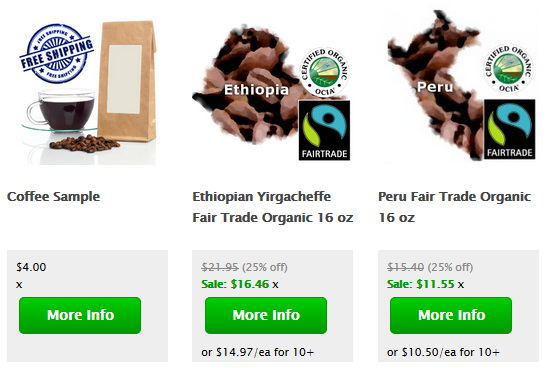 Green Coffee Production
60kg bags
2016: 55,000,000 = 7,260,000,000 lbs
2015: 50,375,656 = 6,649,586,632 lbs
2014: 52,298,979 = 6,903,465,188 lbs
2013: 54,698,083 = 7,220,146,996 lbs
2012: 55,420,225 = 7,315,469,700 lbs
Green Coffee Exports
60kg bags
2016: 0 = 0 lbs
2015: 36,915,660 = 4,872,867,120 lbs
2014: 36,875,980 = 4,867,629,360 lbs
2013: 32,761,080 = 4,324,462,560 lbs
2012: 29,285,230 = 3,865,650,360 lbs
Data may not be available for the most recent year.
Source: ICO
Facts

























Brazil is the #1 largest coffee growing country in the world, in 2015 they...
produced 6,649,586,632 lbs
exported 4,872,867,120 lbs
That's over 73% exported!
Sounds like a lot? It's actually 33.3% of the coffee grown worldwide.

Brazil coffee is grown on mountainside "fincas" (farms) at 400 to 1600 meters above sea level
(that's 1,312 to 5,250 ft)
Source: ICO