Coffee production in Nepal has been steadily increasing in recent years. Cultivated in the foothills of the Himalayan Mountains, Himalayan Java coffee of Nepal is grown at altitudes from 3,000 to 6,000 feet above sea level primarily in the districts of Kavre, Palpa, Lapitpur and Gulmi.
According to producers in Nepal, the majority of coffee in the Himalayas is newly planted and therefore "organically grown" and call themselves organic, though few companies or producers actually carry an Organic certification on their labels. The standard growing practice involves planting coffee among taller trees, providing shade.
Himalayan Coffee Harvesting and Processing
Coffee harvest season in Nepal is in December and January. This is when the coffee cherry are hand-picked at peak ripeness. The predominant method of coffee processing in Nepal is wet processing though dry processing is also used and formerly was the favored method.
During wet processing the coffee cherry are put through the pulping process within twenty-four hours of harvest. Pulper operators are typically co-operatives or coffee processors who sell the green coffee beans (unroasted coffee beans) to the District Coffee Producer Association (DCPA) or co-operatives.
Also see: The Top Ten Coffees in the World
During dry processing the coffee cherry are dried naturally in the sun for about three weeks and then collected by farmer co-operatives or Processors who pulp the coffee cherry to extract the green coffee beans. The green coffee beans are purchased by Himalayan Java only from DCPAs and co-operatives.
Coffees of Nepal - Himalayan Coffee Cultivation
Himalayan Java grows the Caturra coffee plant varietal (an Arabica varietal) at about 2,300 feet above sea level at the foot of the Ganesh Himal mountain range about seventy kilometers north of the capital Kathmandu.
Any higher elevation would risk frost that could damage the fragile coffee plants. However at this latitude the frost-free valley in the northern belt of Nepal provides optimal coffee growing conditions.
Thank You for Visiting Espresso Coffee Guide and Reading About Himalayan Coffee!  Savor Your Coffee and Espresso!
Buy indonesian Coffee Beans from Canada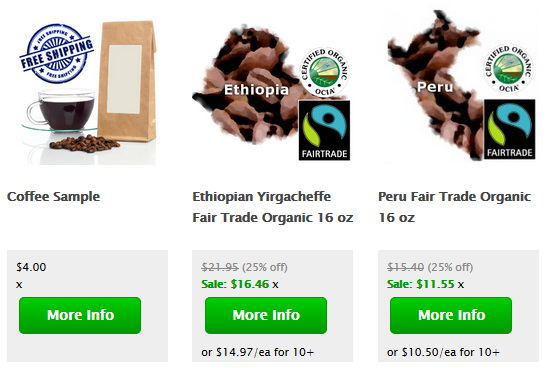 Green Coffee Production
60kg bags
2016: 2,000 = 264,000 lbs
2015: 1,070 = 141,293 lbs
2014: 2,120 = 279,827 lbs
2013: 899 = 118,615 lbs
2012: 1,207 = 159,364 lbs
Green Coffee Exports
60kg bags
2016: 0 = 0 lbs
2015: 1,070 = 141,240 lbs
2014: 2,120 = 279,840 lbs
2013: 900 = 118,800 lbs
2012: 1,210 = 159,720 lbs
Data may not be available for the most recent year.
Source: ICO